TraMe – Tracce di Memoria, the cultural project ideated by the Uncommon Factory, curated by Annalisa Ferraro and supported by the Lazio Region and the European Regional Development Fund, has unveiled the installation designed and created by Alberonero for the recently restored Belvedere in Piazza Cesare Battisti, presenting it formally to the city of Rieti.
PILA, a site specific work designed for one of the historic quarter's most suggestive viewpoints, on one side interacts with the ancient Cathedral and contemporaneous architecture and on the other with the Giardino del Vignola and the city's two main squares, and so exploits the privilege of contemporaneously looking over the roofs of ancient Rieti and at the breathtaking panorama that daily synthesizes the relationship between the city's two heritages, the historical-artistic and the naturalistic, which still exert a strong influence over its culture.
The installation embraces Rieti and the daily life of its inhabitants. The Belvedere, as a meeting point, a thoroughfare, a place to relax, is very popular with the people of Rieti and tourists alike. Alberonero's work enhances its role as a space dedicated to contemplation and observation of nature and the city's history.
PILA, with its ethereal and intangible appearance, absorbs the strong spirituality that pervades the city of Rieti, continuously recalling its role as the fulcrum of St. Francis's journey. Here the saint consolidated his faith and found the strength to share it with the faithful and with the populace. It is ethereal and intangible in appearance only; in reality it is solid and stable, just as is the local culture in the tenaciously preserved historical-artistic, religious and social records of the city.
Alberonero was born in Lodi in 1991. At the age of fifteen he began to experiment with graffiti developing a personal, brutal and childlike style of painting. In 2013 he graduated in Interior Design at the Milan Polytechnic. Since 2012 he has studied the perception of color, interested in the emotional possibilities given by tonal combinations. He is also developing a research on the synthesis of form, with the idea of minimizing visual language, and of reducing the world to color, to sensations.
He creates public art, pictorial and installation works all around the world and intervenes in natural environments with different media. His works are born from an intimate dialogue with space, and a conception of art as a poetic and fundamental element of the landscape.
Check out below for more images of the installation.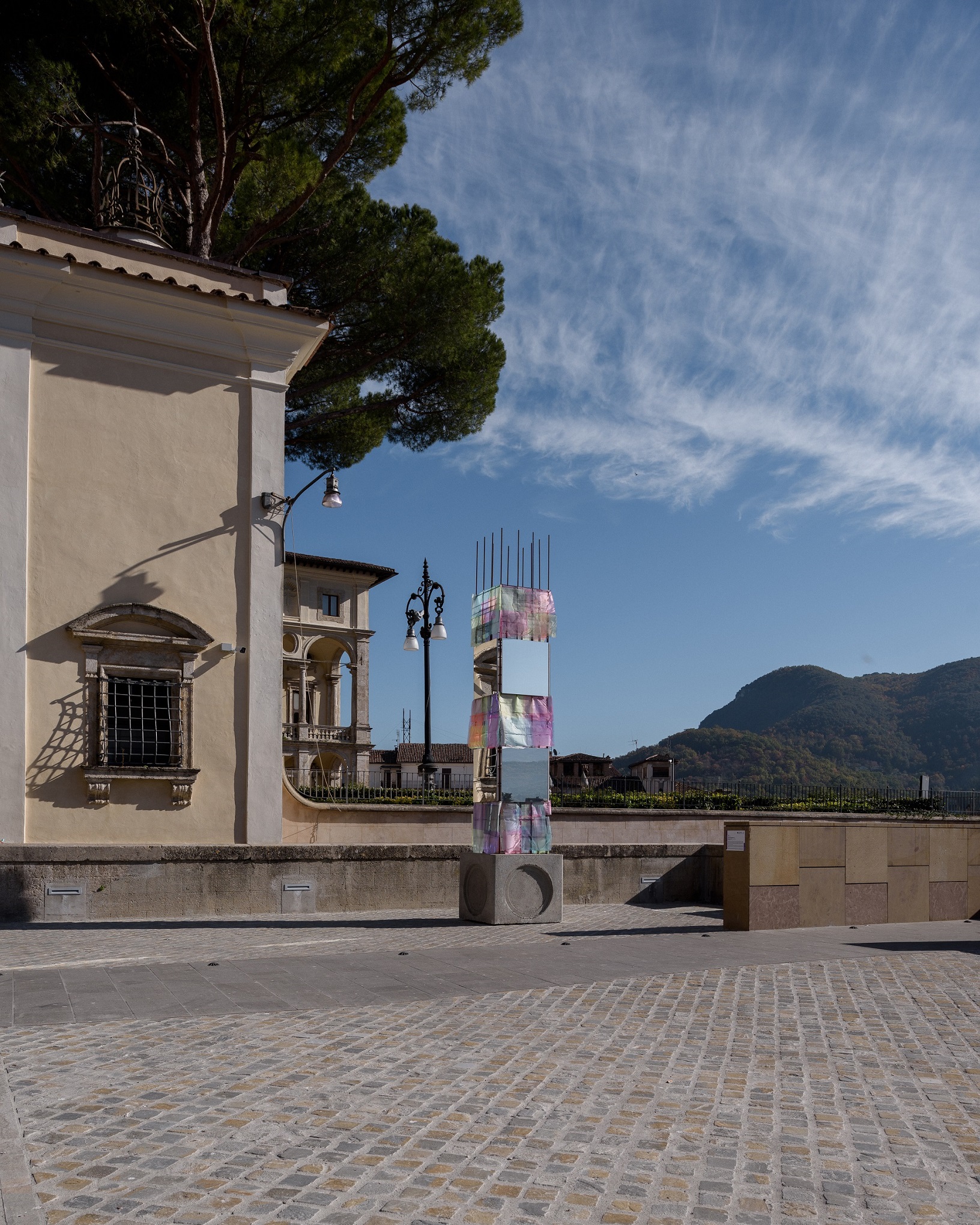 Photo credits: Gianluca Gasbarri & Marco Bellucci