Renowned skate brand Clown Skateboards announce LUDO as the first artist for their new Guest Art Project, which will see four internationally acclaimed artists joining forces with talented independent printers and makers, to bring to life a new series of limited-edition, hand-crafted skateboards.
The Guest Art Project will see a further three artist partnerships taking place throughout 2021, with each artist creating a brand new series of three specially designed boards. Each release will be strictly limited to less than 100 editions, hand developed, numbered and will come with a Guest Art Project Certificate of Authenticity signed by the artist, Clown and the makers. A third of all profits from the boards will be reinvested to help support socially deprived young people reap the benefits of the skate community, through kit donations and mentoring.
Kicking off the inaugural launch of the Guest Art Project is a seminal figure in the landscape of urban contemporary art. Esteemed Paris-based artist Ludo (Ludovic Vernhet) juxtaposes the beauty of the natural world against darker forces, with his detailed drawings revealing a new order of hybrid organisms and contrasts. His signature style of black, white and neon green is expressed across various mediums and appreciated worldwide – from eye-catching giant murals on walls in the streets to curated exhibitions and installations that are presented in some of the best galleries around the globe.
Ludo, said: "I've been skating from when I was 10 to maybe 18, and my first attempts at drawing were copying Thrasher magazine adverts on my bedroom wall. So when I was asked to follow Banksy and work on this project, I felt honoured to be part of it and to be involved in a scene that is still a huge source of inspiration for me. The DNA of Clown Skateboards, the vision and skills used to hand produce the boards and the fact that they give back to communities and to kids that are not able to afford riding, are the essential elements of coming together with a real story to tell and not just a printed board."
Clown have assembled a team of four talented transatlantic makers to help bring the ' Ludo W Clown ' artworks to life for the first Guest Art Project. The first offering features delicate illustrations of roses, either fused with knuckle dusters – a contrast of natural beauty and fragility – combined with a fist-loaded weapon, or bouquet of perfect petals concealing cash.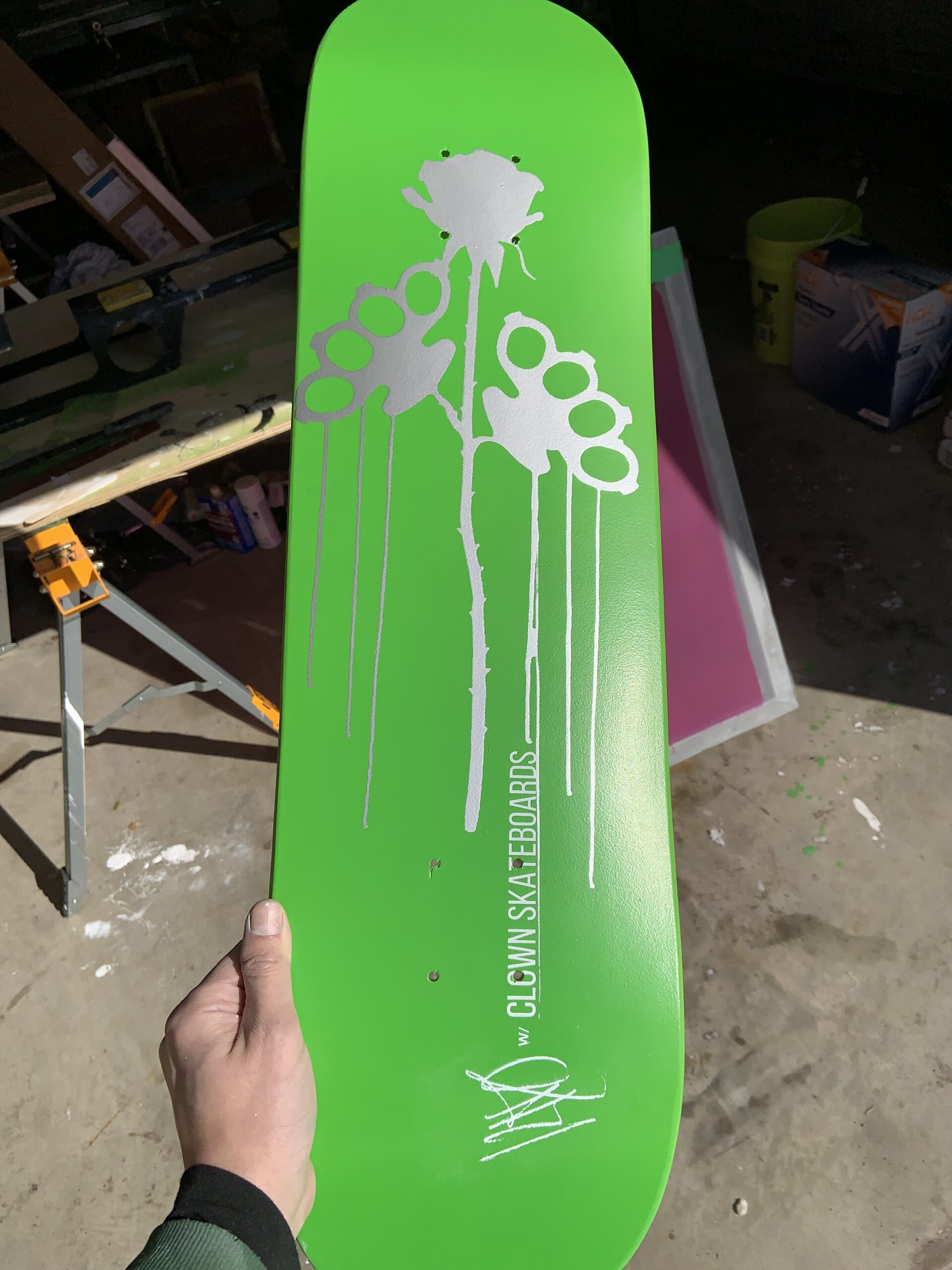 The forthcoming sets will be hand produced in the UK, San Francisco and New York, with each piece combining years of specialist expertise and know-how to present the very best in quality. The Guest Art Project boards will endure a multi-level process, using a combination of hand-applied and print imagery applied using meticulous layers of crafted application, in a way that does the original artwork by Ludo justice.
The Guest Art Project will also play a major part in raising funds and awareness for skateboarding and art communities in 2021, in particular drawing attention to the social and mental health benefits of the skate scene. As a key part of these communities, Clown have always aimed to give back and to nurture the next generation of talent in skateboarding, art and beyond, through product donations and mentoring. Building on this legacy, the Guest Art Project will enable Clown to further this support, through donating a percentage of profits to produce skateboards for the community, helping to nurture the scene and get even more people involved in skateboarding and making.
Established in August 2000, Clown Skateboards launched with the release of the 'CLOWN BANKSY TEST PRESS' series, two skateboard designs and their legendary logo designed by Banksy himself. After taking a hiatus in 2005, the brand returned to the scene earlier in 2020, with a sell-out new run of the original Banksy test press boards and all of their soft goods.
Jeff Boardman, Clown Skateboards Curator, said: "Working with Ludo is something that was high on my wish list. His work has resonated with me on many levels for a number of years and it's been an honour to get to know the man behind the pencil. Together we share a vision to not just make something that could be displayed on a wall, but actually skated, and more importantly, used to start the journey of change and to support our younger generations within the community."
The 'Ludo W Clown' boards will go on sale at midday (GMT) 4th March 2021. The next artist partnership for the Guest Art Project will be revealed later in 2021…
www.instagram.com/clown_skateboards