After the success of the 2016 edition, the 2020 edition of Rouen Impressionnee gathered 23 international artists, expanding successfully its open-air mural art exhibition in the streets of Rouen despite all the issues of this challenging year.
A total of 20 new murals have joined the existing murals created in 2016 by international artists like SatOne, Sainer, Velvet & Zoer. Curator Olivier Landes and his team focussed on the contextualization of the works, in connection with the landscape, architecture and urban history.
In parallel to the monumental artworks, a series of events are also scheduled until end of November, including artistic interventions, graffiti jam, talks and conferences and workshops, as well as a comprehensive retrospective exhibition retracing 35 years of Street Art in Rouen.
Featured artists include:
Citémômes • Claude Blo Ricci • Elian Chali • Fabrice Houdry • Fred Calmets • Herman Kolitz • Jan Vormann • Jean Faucheur • LKSIR • Lison de Ridder • Liz Ponio • Luca Arbocco • Manolo Mesa • Nadège Dauvergne • Nelio • Nubian • OX • Olivia Paroldi • Patrice Marchand • Ratur • Roberto Ciredz • Roid • Savati • Smad
Using a wide variety of techniques, from collage, engraving to knitting, the artistic works are intrinsically linked to the neighbourhoods and architecture. While being sensitive to architectural details, textures and volumes, the artists also involved local residents and communities.
German artist Jan Vormann used Lego plastic construction pieces to repair and fill holes in the broken walls on an historical gothic building bombarded during WWII.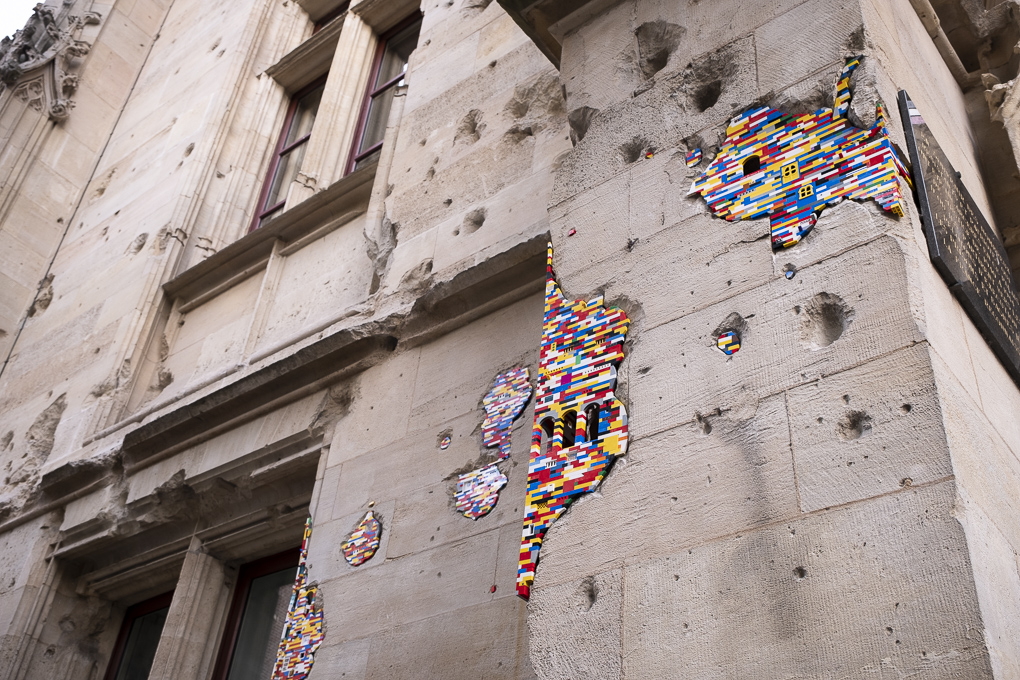 Most of the works take the form of murals which vary from trompe-l'œil, pointillism, portraiture, abstraction to anamorphosis or landscape figuration:
French artist Blo (covered earlier) has designed a composition of vibrant and colourful shapes to highlight the passage under a monumental arch.
Spanish artist Manolo Mesa has paid tribute to the long tradition of ceramics in the Saint-Sever district, by painting a large scale mural featuring a trompe-l'oeil version of an 18th century jar, currently displayed in the Museum of Ceramics of Rouen.
The cultural non-profit organisation Citémômes led a yarn bombing project where intergenerations covered the walls and roof of a small house with tiny knitted squares in tribute to Monet.
Liz Ponio has adorned the facade of the Simone Veil social centre of Rouen with hundreds of painted pebbles as a nod to the pointillist movement.
French artist Nadege Dauvergne painted an intimate portrait of two figures on the verge of kissing, using touches of sprays paint while the volume is being generated by playing with light and dark colours.
Inspired by Monet's cathedrals and their diffuse waves, Nelio painted an oniric landscape, mixing abstraction and figuration. To add to mystery the title is "2006250942".
Olivia Paroldi produced a large-scale mural on three garage doors using an engraving technique with a sander and dowels. The triptych is inspired by a lockdown experience, whereby the character evolves and frees himself from a constrained universe.
Using 3D effects and dark volumes, OX creates an impressive optical effect, where the walls appear to be missing. To add to the visual effects, a fine fluorescent orange outline recalls the sprays used on construction sites, as a prelude to upcoming demolition of the house.
'MELT FAST DIE YOUNG' BY ROBERTO CIREDZ
Berlin based artist Roberto Ciredz painted a dazzling trompe l'oeil effect on this façade with a political message. Beyond the aesthetic aspect, the artist highlights the issue of global warming with a piece of ice in the process of melting.
British artist Roid developed a monumental work playing with geometric shapes and the urban environment like the tram lines. The result is full of energy and interacts with the buzzing atmosphere of the place.
Elian Chali has created an anamorphosis by placing two red and blue spheres on three houses that seem to unite. Viewed from a specific point, the shapes are composed to perfection, while from other points of view they deconstruct and transform into large abstract zones of primary colours.
More info on the artworks and scheduled events on www.rouenimpressionee.fr
Photo credits: Florence Brochoire, Marie-Hélène Labat and Olivier Landes.