Starting from his beginnings in Sao Paulo, Alex's monochrome vision has spread poetic scenes of everyday life on the streets of the world. His peaceful loving characters manage to arouse empathy and complicity, as if they were friends who have always been present in our neighborhood. We reached him for a chat, just returned from an "adventurous" trip to Russia for the Urban MorphoGenesis Festival.
Hello Alex, first of all, tell us something about your present work. What are you into at the moment?
Now I'm going back to Brazil after several months of travelling, i just got this new studio, so now is time to recycle and have fresh ideas, study and create different things.
You blew my mind with your most recent wall for the Urban MorphoGenesis Festival in Russia. Could you tell us something about it, I mean, how did you prepared for such a work?
Well, I knew it was big, so I wanted to put a character life sized in the building. I wanted something simple and that could touch anyone. At the same time I had a bunch of problems with the weather, I lost my luggage, and getting sick. Infra structure problems, and of course time. So, even if I was prepared for that, I couldn't know what was about to come.
I think that the first message coming from your art is always an invitation to look beyond, to appreciate life in a different sense, to pull out the joyful aspect that resides in us. What has brought into your life the artistic expression?
My family has a lot of people that draw… My brother draws, my mother draws, my uncle draws. So it was something very present in my life. After 10 years working for the system, I left everything and started to live with my art.
How did you decide upon some of the re-occurring themes in your work? I mean, is it something do you control or is it subliminal in a way?
I guess both, but i always keep the same atmosphere in all of them, it makes a bond between all the drawing. Like a short story divided by several interventions from stickers to tags, small walls and big murals.
I've always enjoyed the feeling of loneliness and serenity that shines from your subjects at the same time. Is it something that is also reflected in your life, or there's nothing autobiographical?
I guess there will be always something autobiographical about it. It's impossible not to. Maybe not what I'm living, but for sure stuff that I saw and felt.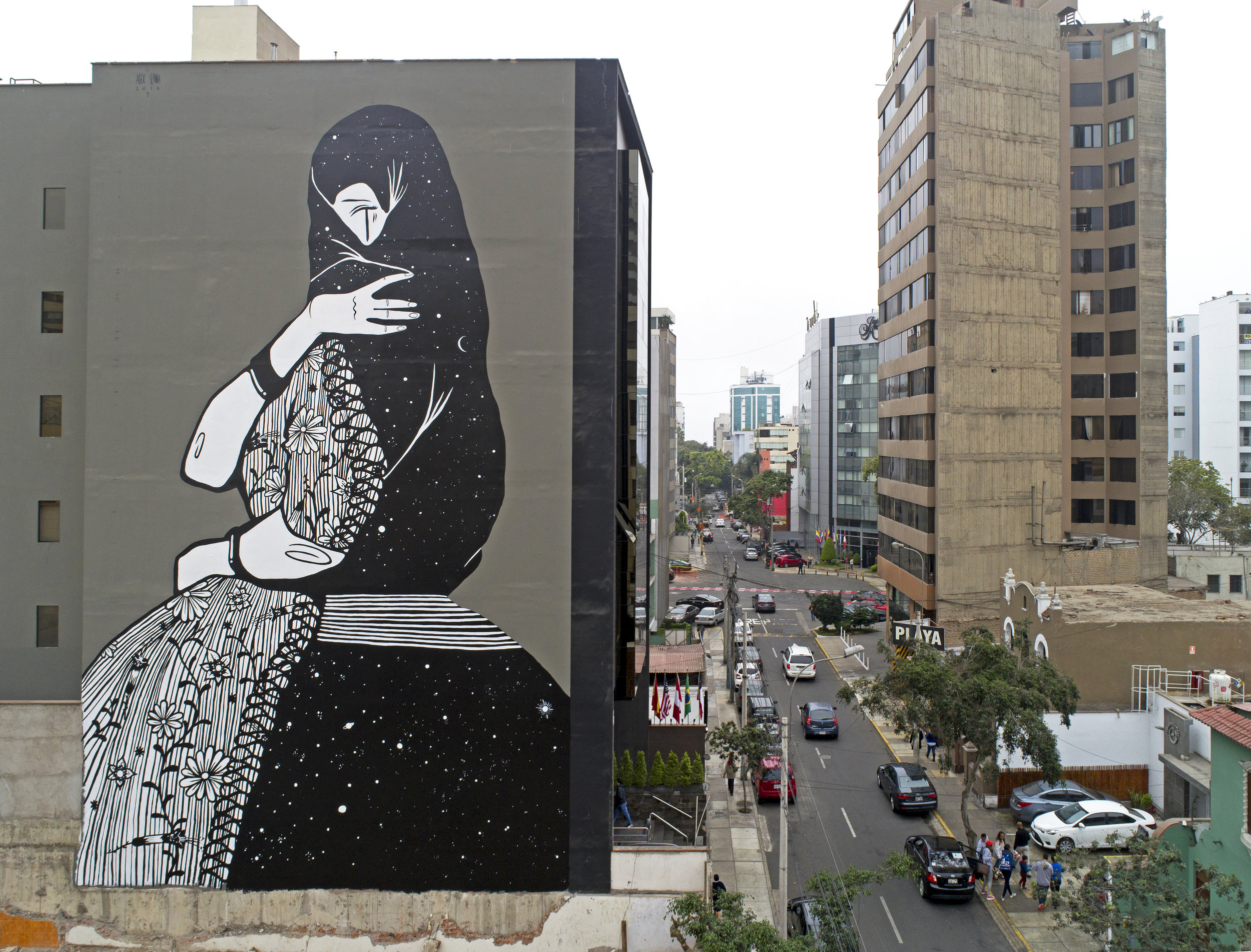 Your murals have always had a strong concept, I think the evidence is clear since they work both on a small and on a large scale. It's not so obvious nowadays, since we see a lot of huge walls that would not be so impressive painted on a regular canvas. What's your point of view about scales?

Maybe some artist don't see the responsibility of going big. To me painting in the streets is a lifestyle. It's a non-stop continuation from the first day I painted. It's basically my life. But, for some people, it's only a job.
Nowadays you paint for renowned commissions and during excellent festivals, are you still interested in the illegal part of the game? Are you still tempted on going outside without any permission?
You see, everything is connected: stickers, tags, illegal, legal, mural, canvas, small walls and huge walls. When you have that lifestyle, you never stop doing it.
If you could change one thing about being an artist, what would it be?
Mmmmm…I guess I would change my name.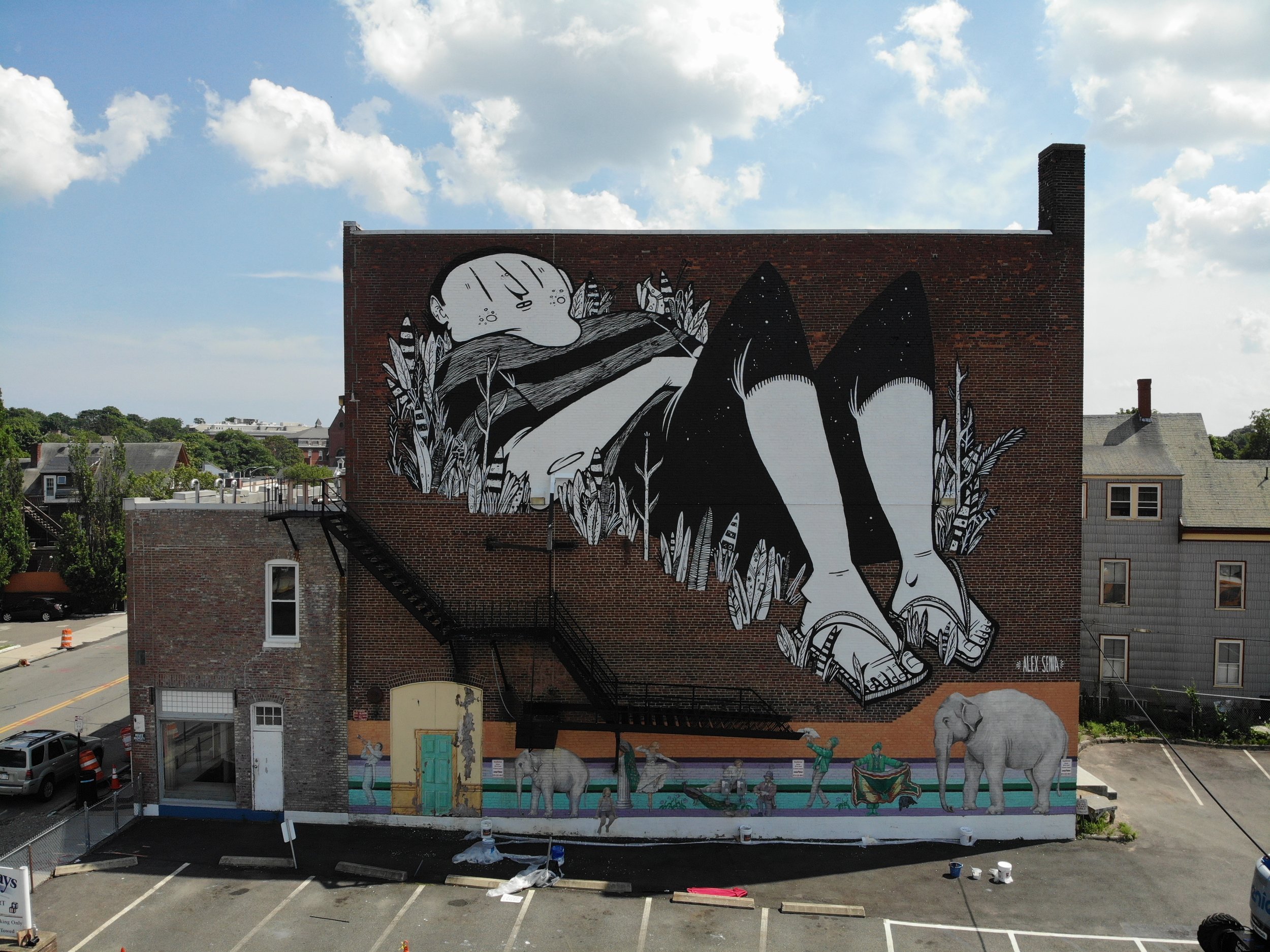 Over the past decade the murals have multiplied ceaselessly, what do you like most and what you don't of the current street art scene?
The variety of murals, techniques, esthetics and styles i think it's very interesting. A lot of different ways and ideas bringing new possibilities it's for sure what I like the most. But I miss more pieces in the streets, in smart spaces. Everything nowadays look very professional, but sometimes less human.
Tell me three artists you admire at the moment, who do you think is doing remarkably well?
Pat Perry, Imon Boy and Dan Bootlek. All of them are doing pretty well.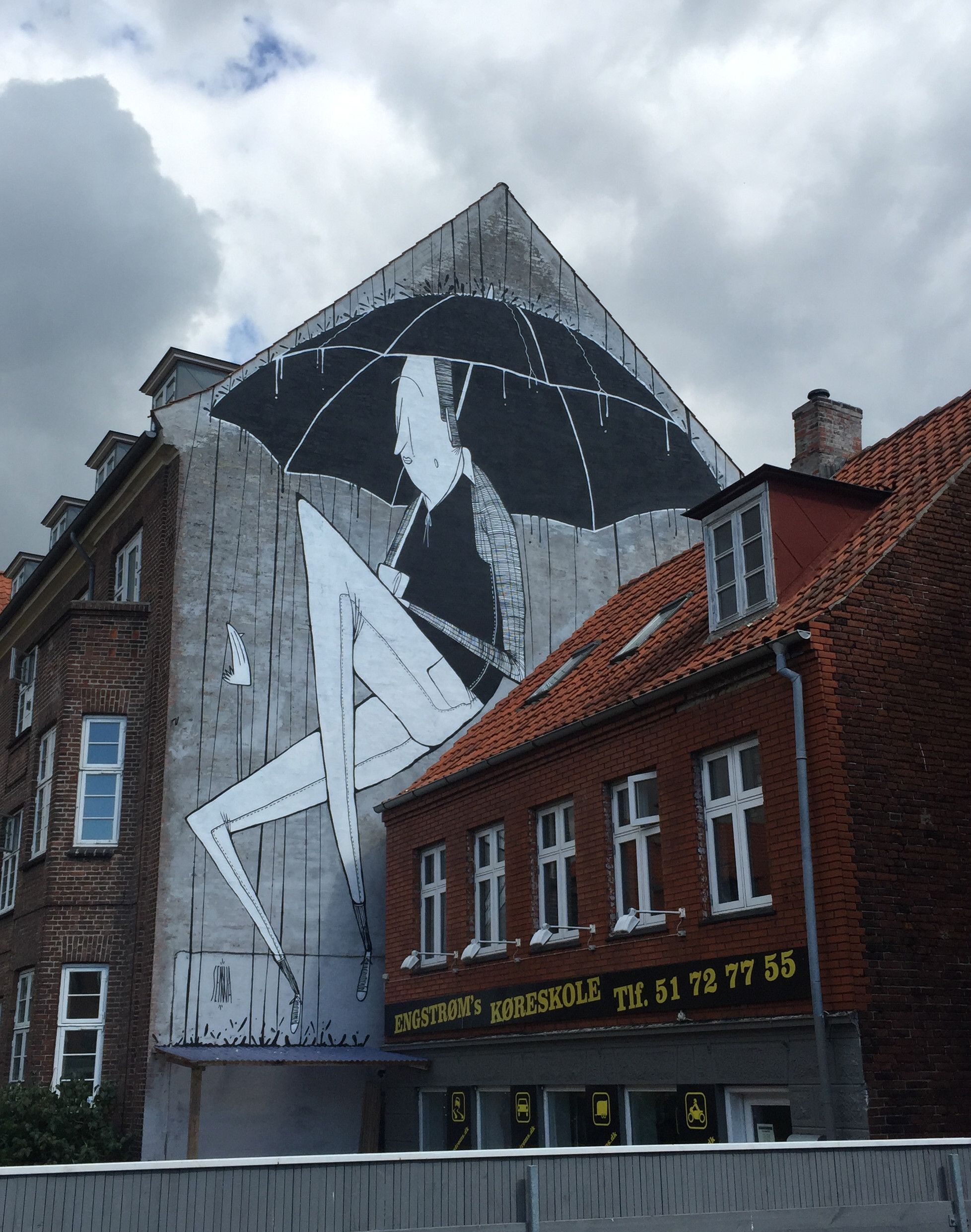 Let's go back to the origin of your artworks, how hard was to establish yourself on the scene and what do you think were the most important steps on the run?
It was hard, Sao Paulo is huge, a lot of people doing graffiti, the competition is very big. But there are two moments that are very important to me. One, is when I changed my style to only black and white. Black and white was very natural to me, I never liked colors, just was using because when I first start painting outside I was very influenced by grafitti style. So when I changed, it was natural and after that I never used colors in the characters anymore. The second, it was when I quit my job and dedicated full time to art. Time is the key. When you know how to use time, you can produce a lot, and thats what I did. I painted a lot.
If you look back at your early pieces, do you see something completely different from now? I mean, how has your work evolved over the years from when you were beginning?
Well, my first pieces were super colored, I just wanted to be part of it. Didn't have many aspirations…. After the changing to black and white, I start to develop my own narrative of things, the esthetic was natural to me, and I start to focus more on the ideas. About 6 years ago I started to travel a lot, and painting around the world, get in touch with different cultures made my work more mature in my point of view, besides the baggage of different problems to solve when you are painting outside your country.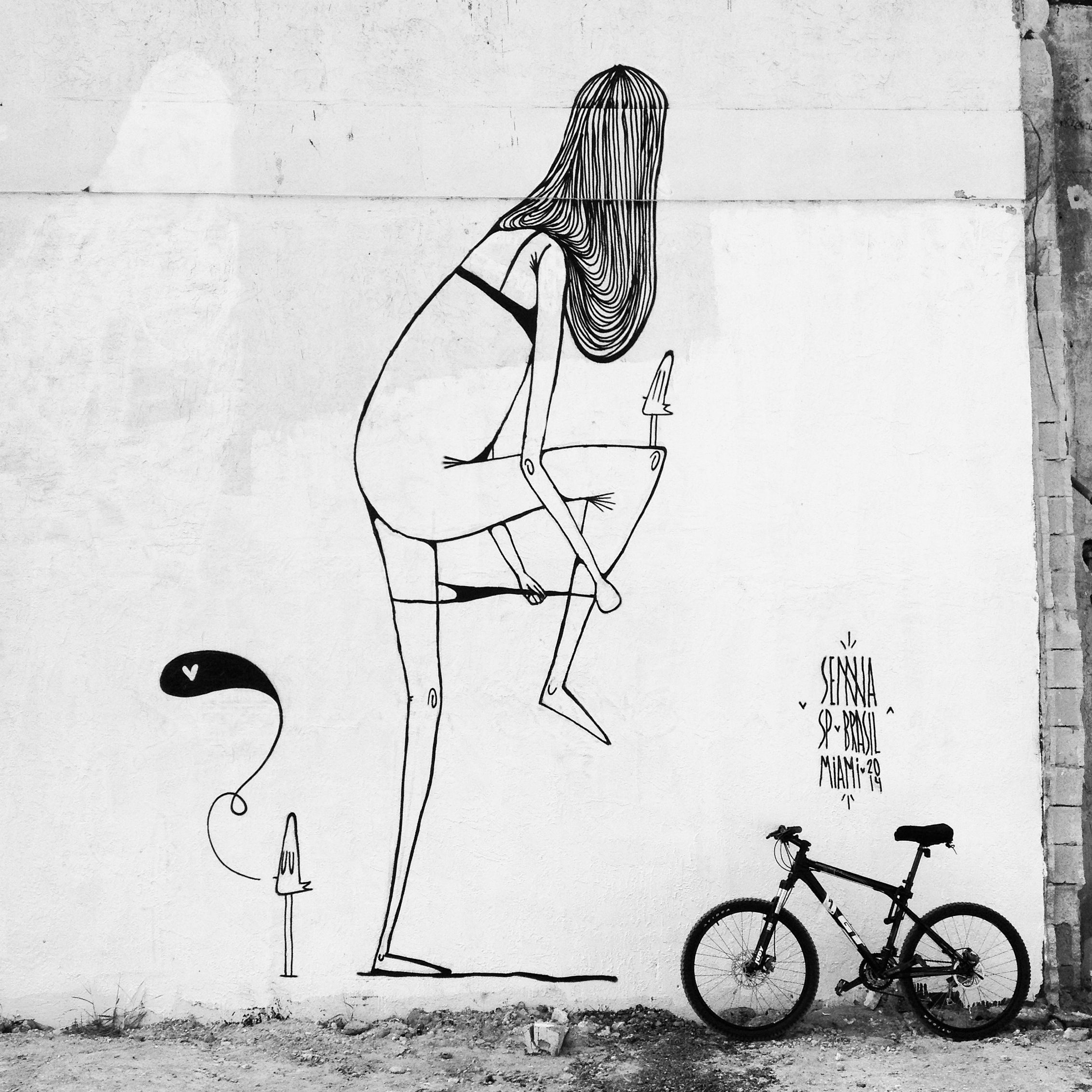 Is it something you are comfortable with, or would you like to erase your earlier works?
I'm comfortable with it, it's part of the history of it.
Small curiosity, when you were 13, what did you want to be?
A Disney Animator.
Quick reply. Something you've always wanted to do, but have yet to.
A good tag, mines are shitty.
A place you would like to see in this world before dying.
Africa, Japan, Turkey. There are so many places to see, this World is big.
One overrated and one underrated thing in our daily life.
I guess social media is overrated and taking care of plants is underrated.
What kind of music do you listen to while you're working?
I like good music, brazilian, american and italian are my favorites.
Damn, I guess our time is finishing, but I cannot leave you without asking some about your future plans. Please tell me what's next for you? What shows or projects do you have planned?
Right now I'm focused on my new studio and creating new artwork pieces. Besides that, next year I'm gonna paint in some festivals and I have a sculpture public art project that will happen in Cleveland.