Opening this Saturday April 15, 2017 curators DK Johnston, Bill Mack, and co-curator Hyland Mather will be presenting the opening celebration for street artist Mando Marie's solo exhibition "Can it Be?" at The Marcy Project located in South Williamsburg, Brooklyn, NYC.  The show will feature  mixed media pieces on both paper and canvas along with a new mural entitled "The Ghosts All Around Us" painted on the facade of the gallery.
American born artist Amanda Marie, also called MANDO, uses stencil, traditional painting, and mixed-media collage to create works that harken back to imagery from classic childhood story books, yet slightly askew and out of traditional context. Now based in Amsterdam, Netherlands, educated at the Rocky Mountain College of Art and Design, her large scale street pieces and intimate studio works create narratives with recurring characters of children and animals.
Marie's signature graphic style work has been exhibited in galleries across the United States and Europe, and has been featured in several Museum exhibitions including a solo show at Boulder Museum of Contemporary Art, a two person major exhibition at the Jordan Schnitzer Museum in Oregon, and an upcoming major installation at the Daelim Museum in South Korea (March 2017) Marie's work invites both a sense of comfort and a hint of the eerie for viewers, and the real strength of her work is in this juxtaposition.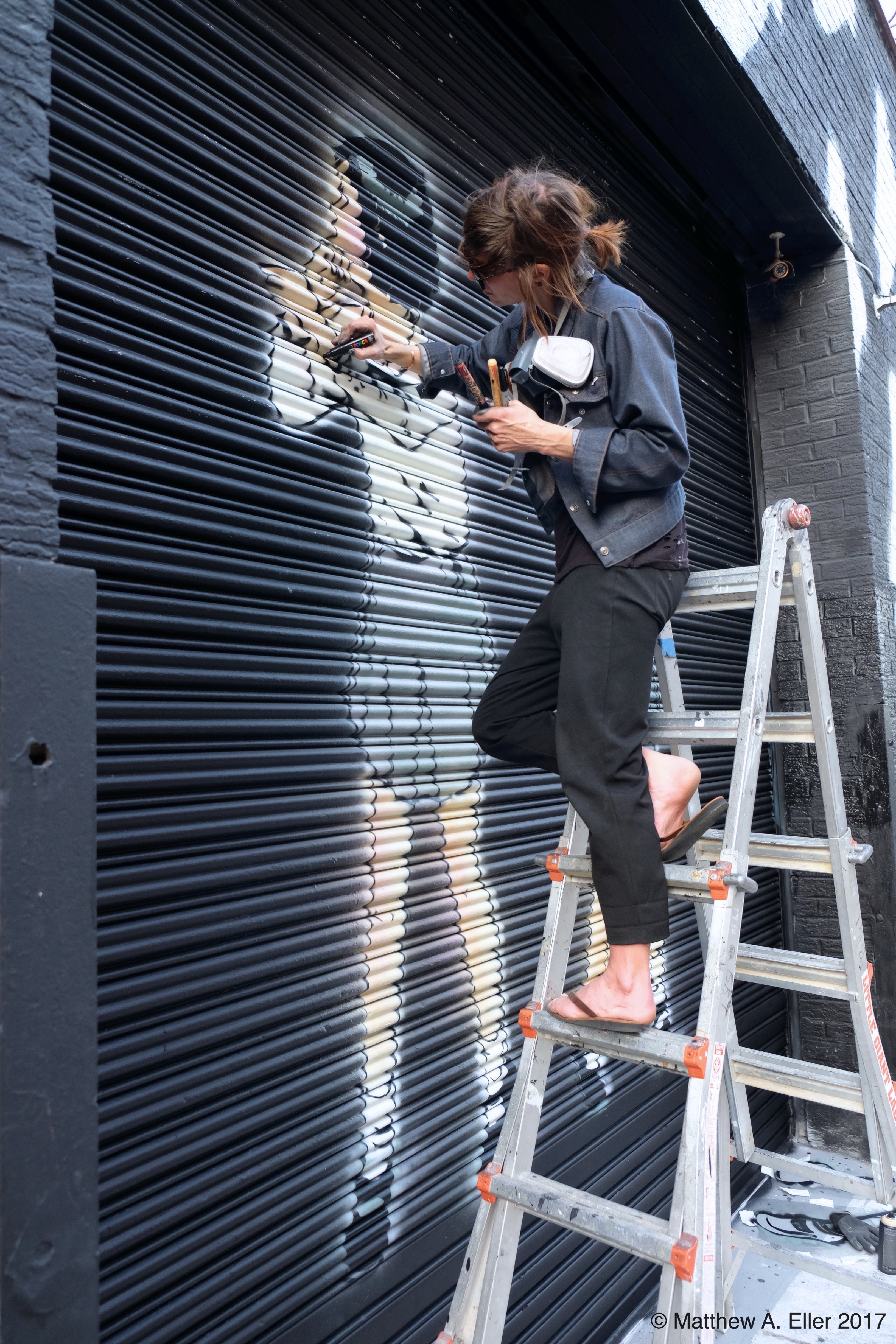 Her oddly familiar characters could be straight from the pages of Golden Books, (and have been compared to Darger's Vivian Girls). Doe-eyed little girls, innocent-looking little boys and totemic animals engage the viewer from a quietly ghostly place. Her imagery, is simultaneously innocent and slightly spooky, whether on her wonderfully cared for paintings or gritty outdoor walls. Among the popular genre of Stencil paintings, Marie stands out.
The graphic edge of the stencils is masterfully coupled with true painterly flourishes in her work . The stencils themselves are hand drawn and hand cut, and are not merely a tool in her work, but also intrinsic to her narrative process. With the stencils, exacting imagery can be repeated or mirrored, which is a signature characteristic of her work.
The sense of safety that her story book style characters give us is disrupted with her use of "twinning," or mirrored images in her narrative. Marie's nostalgic characters do not interact within the confines of a perfectly drawn landscape, but instead are cast in settings of uneven washes of color, pattern, splatter and texture. The contrast of the perceived innocence of her characters against the deeply-layered painterly backgrounds epitomize the beauty of Marie's work- a push and pull of subtly and complexity that leaves the viewer creating their own fantastical narratives.
MANDO MARIE "Can it be?" as curated by Hyland Mather and DK Johnston
opening reception Saturday April 15 from 6 – 10 pm
The Marcy Project
275 South 2nd Street
Williamsburg Brooklyn
All Photo's Copyright 2017 Matthew A. Eller.  Follow me on Instagram @ellerlawfirm