Aspiring to inspire others, WRDSMTH has pasted colorful and well-chosen words on the walls of Los Angeles since 2013. Born and raised in the Midwest, he relocated to LA and started doing time in Hollywood, chasing the dream like countless others. But what makes the difference is definitely the poetic approach he spreads with his art. WRDSMTH addresses our concerns, our fears, and our dreams with a single typewriter stencil and some wheat paste. Pretty simple, as usual, but absolutely powerful, in a word.
Okay Wrdsmth — let's start from your first solo show in LA, "I'd Like To Have A WRD With You". How hard has it been and what kind of emotion do you feel now that it is over?
Well, it was an amazing and surreal and exhausting and energizing experience! The show's name came from the fact that I wanted to meet all the people who follow my work and for whom the words are resonating. So I went out of my way to do that. Every moment that the show's doors were open, I was there meeting and talking with fans. And I loved every minute. It was surreal for me to be in that room because the vision I had for a solo show over the last two plus years was there up on the walls. It was hard work, but I made it a reality. I decided to hold my first solo show outside of the gallery system, opting for a pop up location. And that was a very rewarding experience. Now that the show is over, I am very happy and I am very proud of the body of work. I'm thrilled with the entire experience. If you asked me before the show opens if I was ever gonna do it again, I probably would said, "I don't know." But now, after the fact, I know that sometime in the future I will indeed do it all again.
Looking at several street art exhibitions, I think the hardest thing for a street artist is to recreate the same kind of emotion from the streets in to a closed space like a gallery. Obviously the "surprise effect" fades away, how did you manage to overcome this limit?
This is exactly why I waited so long to have my first-ever solo show. I wanted it to be something special. I wanted it to be something people remember. I wanted that emotional feeling when people walked through the door. The venue where it was held — Fais Do-Do — is a historic jazz club, which has this massive sound stage that was offered to me. They gave me "carte blanche" and allowed me to overtake the space. I was allowed to paint on the walls. And I was allowed to fill it with the vision that I had for my show. "I'd Like To Have A WRD With You" also refers to the fact that I wanted to tell stories. Instead of the traditional title cards that accompanies pieces at a gallery or museum, I featured cards that told stories — both fiction and non-fiction. All this amounted into an entertaining experience for anyone and everyone who walked through the doors while the show was running. It was always my goal to surprise people. People know who I am — I'm the typewriter guy. I'm the guy that does word-based based street art. However, I aimed to surprise people with the show and the body of work, and I do believe I accomplished that goal.
And what about your part of the game, did you get bored or the adrenaline component of working illegally has been overcome by the pride of creating your first show?
I find satisfaction in all aspects of my work. I still do renegade pieces and will always do that kind of work in the streets. To me, it's giving art to the people. I love the fact that somebody can be walking down the street or driving and they can turn a random corner and encounter my work. I know the WRDs are resonating with people. So the opportunity to reach them and potentially change their moment, day, or week is something I will always strive for. That's also the reason I'm happy to be getting commissioned and being given sanction walls in Los Angeles and beyond. Street art is in an impermanent art form and while that's kind of a romantic aspect about the medium, it's also very frustrating. A lot of time and work go into the art and it can vanish quite quickly. So the opportunity to do work that I know will last, at a size that will get noticed, and in locations I probably couldn't work illegally, is something I jump at if offered. Galleries are also part of that equation. I saw early on that people wanted to own my work. They wanted my words in their life and in their home. That made me want to be a better artist. I took a step back and learned how to make better and bigger stencils. I learned as much as I could about paint and materials such as canvas, reclaimed wood, metal, glass, etc. I took the time to hone my craft because people wanted to own my work. Galleries began housing some pieces, which allowed me to gain more awareness and also helped establish myself as an artist. All of this led to my first ever solo show. I've only been WRDSMTHing for four years. I'm still a baby in this world. However, my first ever saw show was an important moment and benchmark for me. And I took everything I learned over the last four years and put it into the show. That's why I think it was a entertaining experience for all.
Your production is impressive, it seems you are definitely an "hard worker". Do you consider your artworks as a single opera, or do you see them as individual episodes?
I'm having fun doing this. I think and hope that shows in the work. And while I consider my body of work to be an opus of sorts, it is very individualistic. Each piece that I do, each WRD I put out there needs to resonate with me first. It has to start from something in my life. This is the main reason I'm always amazed that so many of the words are resonating, because they are so personal. However, that makes me realize that we're all in the same boat. We are all experiencing the same things. And I'm happy that I'm able to be a voice for so many people. I do think the individual pieces carry a voice — and over time, have become a very distinct voice. So, yes, if you do put it all together and look at the work as a whole, there is a synergy. I'm just trying to be positive in a time and place where there's a lot of negative things going on in the world. I aspire to inspire others. And I hope the universe is taking note.
Reading your quotes it seems you manage to weave together a playful spirit of childhood with important issues like the current economic crisis and the intrusiveness of media in our lives; which comes first for you – the playfulness or the social commentary? 
I think the playfulness. Again, I aim to inspire people, motivate people. Social commentary goes hand-in-hand with that action because of the time and place within which I'm working in. My social commentary basically amounts to telling people to keep their chin up in a variety of creative ways. And I just think people need to hear that.

When I was in LA, I had the constant feeling of living in a place without a "centre", without a reference point. And now looking at your public artworks, Los Angeles seems to be the perfect setting for your work. A place that needs to be daily supported by sentences of encouragement.  Do you feel the same? Do you feel lucky to live there, or would you rather live in another city?
When I first started I simply want to say things to people in Los Angeles that I wish someone would've said to me when I first arrived. Los Angeles can be a tough and sometimes lonely place. So I just wanted to offer words of encouragement to all those living here to chase the dream. What I realized very quickly is that it wasn't just about Los Angeles — those feelings and the need to hear those things is very universal and worldwide. People are chasing their dreams in one form or another all over the world. I often say that there are stockbrokers in Chicago that would love to write a book. And there are dentists in the Carolinas that long to be actors. So these thoughts and sentiments I put out into the world are being embraced everywhere. However it all did begin in LA. I moved here solely for career reasons and I actually thought I would hate it here. However, the city completely surprised me. I remember a few months in I just stopped and realized, 'this place is kind of awesome.' And that feeling has only grown. I've been here long enough that LA is home. I love it here. I cannot imagine living anywhere else and have no desire to relocate anytime soon. I feel very lucky to live here and I think the art scene here is unmatched. I love traveling to other cities all over the world, however Los Angeles has this incredible creative energy that's quite unique and quite addictive. The fact that street can be done about 355 days out of the year is a huge selling point. And the sprawling canvas that is LA is just staggering. There are walls everywhere. If you have something to say, I don't think there's any better place to aim to say it. What's amazing is Los Angeles is known for being a city where it's hard to make your mark. However, when it offers all this opportunity, it's very tempting to try to make an impression. That's what I did. That's my story. And, yes, I was very lucky in the fact that my work has been well received and the fact that it is resonating with so many people. Could that have happened in another city? Maybe. But, again, it happened right here in Los Angeles and I'm very happy about that.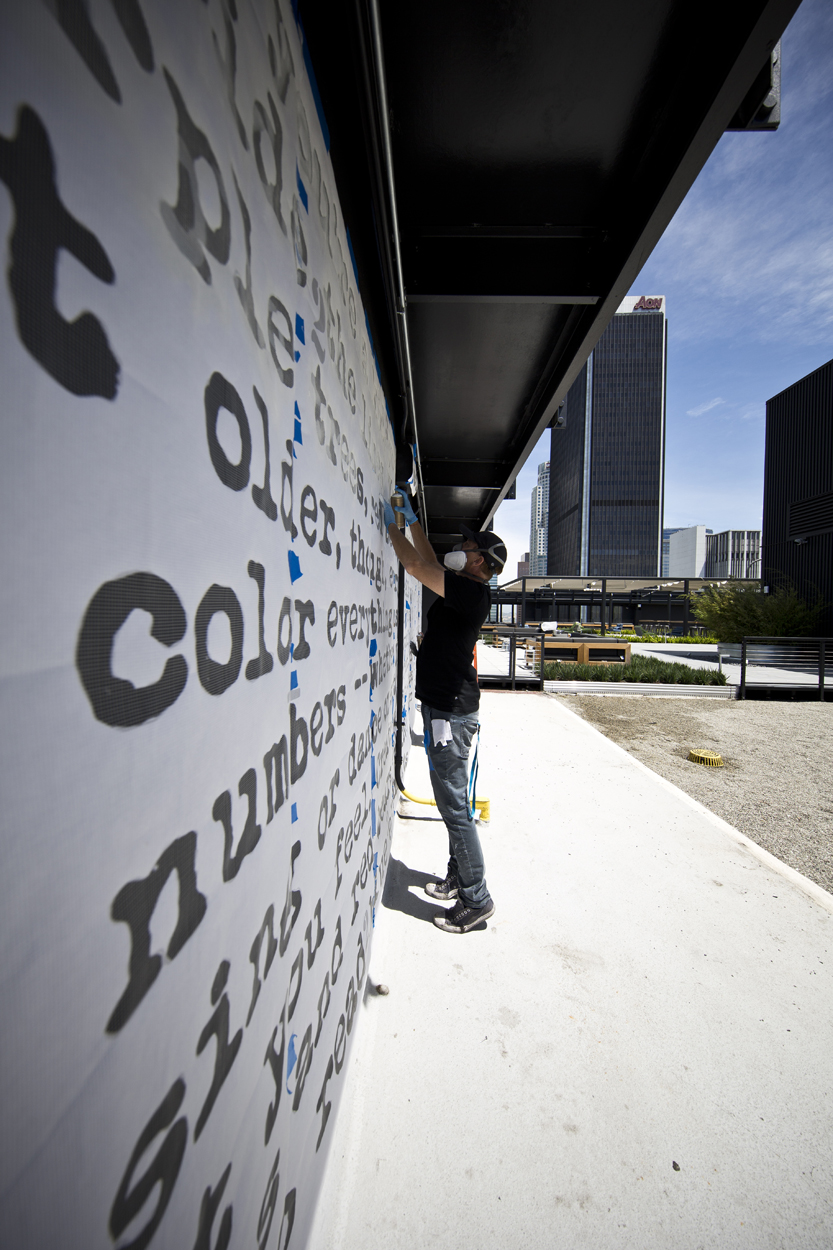 Many of the artists I interviewed in recent years have told me: "you must have the urge to say something to go out at night in the cold to paint a wall in secret." What was your urgency at the beginning of your path and what's now?
I am a writer first and foremost. I've always been a writer. I just love writing in a lot of different mediums. And street art is just a kick-ass medium to writing. Having said that my path was unique because I started doing street art on a whim and I started doing it for me. Back in late 2013, I was spending a ton of time in front of the computer writing and one day I had a realization that I needed an active hobby. Actually, I honestly didn't think I could do street art. I thought superheroes did it. These pieces appear overnight on the sides of buildings, high up in the air, and I constantly wondered, 'who did that, when did they do that, why did they do that?' Street art fascinated me long before I picked up a spray paint can. However, because I had this realization that I needed an active hobby, I started contemplating what I could do, which is when I came up with the idea of a painted typewriter and a wheat pasted page coming out of it. I got so excited about the idea, I had to Google if anybody had done it before. When I discovered nobody had, I knew I needed to make it a reality. and pronto. That's when I forgot all about my fear. The sheer excitement over the idea motivated me to start doing street art and I did start about a week and a half after coming up with the idea. Once I did my first piece, I got that adrenaline rush every street artist talks about and I was hooked. It was like I got bit by a radioactive spray can. But, again, I was doing it for me. I never expected any kind of reaction or success and I never expected to make a dime doing it. However, very early on I saw the WRDs were resonating with people and the rest is history. So, yes, you do need to have this urge to say something and it can indeed motivate you to get up in the middle of the night in order to spray it. That's actually a one-of-a-kind feeling and it is a very common bond between all of us who have done it — who have been brave enough to try. That's why no matter what a person is saying, you have to respect the that person's gumption.

Tell me something about your first steps, how did you promote your work, what kind of media did you used and what results did you get from the beginning?
In the beginning, I was just documenting the pieces I was putting up and decided to house those photos somewhere. I wanted to remember each piece and I think the two platforms that I used from the get-go were Instagram and Tumblr. I started using a few hashtags, but not a lot. But after a few weeks, I started seeing photos of my work being tagged with @WRDSMTH and/or hashtags.  That was a very cool feeling. It was unexpected, but very satisfying. And then the snowball effect began.

Have you been contacted by galleries intending to represent you? After how long did you you noticed interest in your street work?
I mean, Los Angeles can be a city with so many opportunities but it is also very dispersive, it is not easy to be seen in such a vast territory.
For me, commissions came before the galleries. Early on people start contacting me about owning my WRDs and wanting a piece of my work. As I previously said, that made me want to be a better artist. I started exploring all sorts of materials and processes and starting gaining confidence in my work. Once those commissions saw the light of day, galleries started asking to house the work and to represent me. I think that all started happening mid to late 2014 — just six months or more after I started putting pieces up in the streets. As I said before, Los Angeles can be an intimidating place, can be a place where it's hard to get noticed and to make your mark. Oddly enough that's major theme in my work. If you're here to chase your dream, chase the fuck out of it. I always say, you're not gonna be sitting on your porch when you're older thinking I shouldn't have moved to Los Angeles to chase my dream. If anything it's going to be the opposite. You're going to regret not going for it or not chasing it hard enough. So I say if you are chasing it, give it your all. Every day. Don't talk about doing it. Do it. And I am an example of that. I started doing street art. I enjoyed it. I was having fun. That made me want to do more and more. And I put in the time. I put pieces everywhere I could and started getting bigger and bolder with my work. I traveled a lot to other cities all around the world and the art always came with me. All this was me simply pushing all the chips I had into the middle of the table for something I believe in and continue to believe in.

And what about magazine publications, did you get bids to post your pictures or did you have to get it out to be visible?
Magazines approach me for interviews, however there's never been any bids to post my pictures. That's never happened and I didn't even know that was a thing. I put the work out in the streets and while I documented it all myself, it's also also captured to an amazing degree by other people. So much of my Instagram feed consists of other people's pictures and that makes my work so much easier. I like to entertain people with my Instagram feed, so discovering and being sent so many great pictures is fantastic thing. I love it. I love seeing how people capture and interpret my work. I've been very lucky in that respect — that people love to seek out my work and capture it and pose next to it. Hell, people have even got engaged in front of it. How amazing is that?
Your "tribute wall" series is a great sincere homage to 3 artists who made it all. Please tell me three more  you admire at the moment, of course not so seminal. Who do you think is doing remarkably well?
The Tribute Wall was an idea I had for a long time and it was great to finally make it a reality at my solo show. I have so much great respect for Shepard Fairey, Banksy, and Invader. Three other artists whose work I adore is HULA, Kobra, and Dain. And if you're taking about LA-based artists currently making their mark, I'll tip my hat to UnfukYourself, Bandit, and MegZany.
And what about yesterday, you have a ticket for one dinner out for two, and you can choose one artist, whoever you like, from the Egyptians through to the '60s. Who's who?

I love to have dinner with John Lennon. I think it be cool to eat drink merry with him.  
Damn, I guess our time is finishing, but I cannot leave you without the Proust Questionnaire. Here we go:
– Your favorite virtue?
Honesty.
– Your main fault?
Being a hands-on perfectionist.
– Your idea of happiness?
Doing what you love. And maybe doing it with someone you love.
– If not yourself, who would you be?
I'd be Shepard Fairey.
– How you wish to die?
Happy and content.
– What is your present state of mind?
Ambitious.
Uhmmm, last question, when you were 13, who did you want to become?
Actually went from wanting to become a fireman to an astronaut to a teacher. However around 13 I started understanding exactly what that question meant and I came up with an answer that I still used to this day: Happy.
Pictures by Ari Sturm.