Globally renowned street artist Fin DAC, whom is considered one of the most collectible living artists within his genre – is to exhibit in London for the first time with his long awaited solo show 'Afterglow/Undertow'. The exhibition public viewing willl commence on commence from Saturday 23rd October 2021 until Sunday 31st October 2021.
This is the first opportunity in recent times for collectors to participate in the visceral experience of a Fin DAC solo show, mainly due to a hectic international schedule for public mural artwork and an unwavering and strict commitment to producing only the highest quality artwork.
West Contemporary, long term collaborator gallerists and a fixture themselves in contemporary British art, are charged with hosting Afterglow/Undertow, a culmination of 12 months of studio work and six years of street work.
Recent collaborations between the gallery and artist have included the sell-out print project 'Velveteen' and the Spring 2021 collision between Fin DAC and Mick Rock, the celebrated English rock photographer, who teamed up for 'Midaro' – a mixed-media reimagining of Rock's portraiture work with Debbie Harry, Lou Reed, David Bowie and Iggy Pop that garnered significant press around the world, and again, was a complete sell out.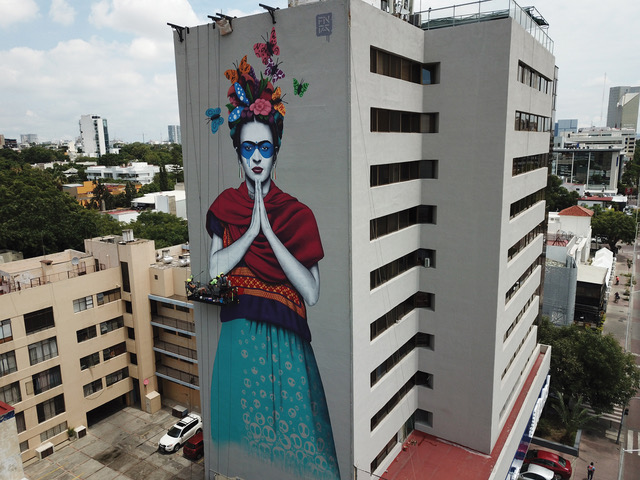 Since Fin DAC's last (and only) solo show 'Nadeshiko' in Venice Beach, California, in 2015, he has criss-crossed the globe adding his artwork and building adaptations to major world cities such as Paris, Berlin, Milan, Tokyo, Melbourne, Sydney, L.A, New York, Miami, as well locations less synonymous with street art such as Tahiti, New Zealand and Guadalajara.
Gallery Different, located in Fitzrovia, one of the City's most impressive artistic regions, is the chosen venue for Afterglow/Undertow due to its versatility and ability to afford the artist carte blanche to curate an immersive experience.
Included in the show will be the artist's first bronze and stone/gold sculptures, a 10-year anniversary homage to 'Killer Instinct', as well as 26 large scale new original show pieces and a selection of one-off prints/collages and sketches.
"The decision to do another solo show has been a long time coming. Following my 2015 solo show, I made a conscious decision to, for the most part, disconnect my studio work and street work. That meant that the two disciplines essentially evolved separately and yet somehow in tandem with one another. This 2021 show is the coming together of all those tangents and experimentations" Fin DAC said.
The VIP evening for Afterglow/Undertow will commence on Thursday 21st October 2021, with a second private view on Friday 22nd October 2021, before public viewings commence from Saturday 23rd October 2021 until Sunday 31st October 2021.
Fin DAC, has worked with numerous brands including Armani, G-Star and Red Bull. He has painted for the Royal Albert Hall, the 2012 Olympic Games in London and he has showcased his work in galleries and museums in Europe and in the US. He has painted murals in Australia, Belgium, Cambodia, Canada, France, Germany, Mexico, New Zealand, Spain, Tahiti. the US, and the UK.
He was also commissioned by the Frida Kahlo Foundation. DAC is the only artist allowed change Frida's face with his signature mask for Dac's Mexico based mural, "Magdalena" which paid homage to her birth month and death.
A dedicated artist, he loves immersing himself in the environment and studying his characters for each of his works. DAC spent time with the local community understanding their traditions before creating the piece.
Check out below to view more of Fin DAC's works.
"AFTERGLOW/UNDERTOW" Solo Show by Fin DAC in Gallery Different, London
"AFTERGLOW/UNDERTOW" Solo Show by Fin DAC in Gallery Different, London