A major installation by Yinka Ilori – Types of Happiness – has been unveiled at the Royal Docks, marking the start of The Line's vibrant summer programme, as well as At The Docks, a brand new season of world-class arts, culture and events taking over the Royal Docks, this summer. The Line is London's largest free public art walk connecting some of the capital's most exciting creative quarters from Greenwich Peninsula and the Royal Docks to East Bank.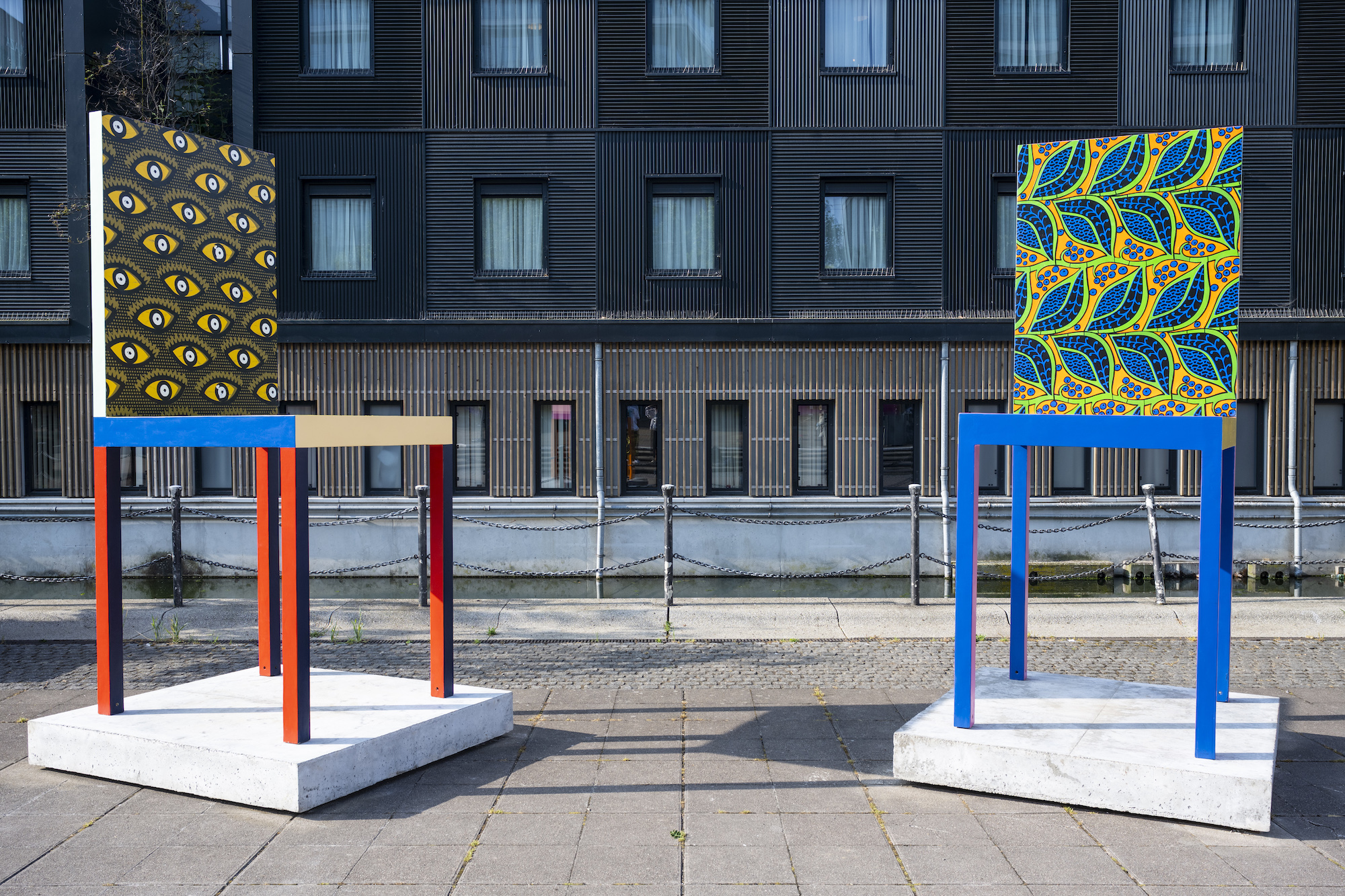 Artworks installed thoughtfully along The Line encourage the discovery of intriguing spaces in the natural landscape of East London's waterways. Types of Happiness features two 10ft high sculptural chairs, featuring bold colours and a Dutch wax print-like pattern. Designed by British-Nigerian artist Yinka Ilori, the installation references his early career up-cycling chairs and his fascination with furniture as a vehicle for storytelling.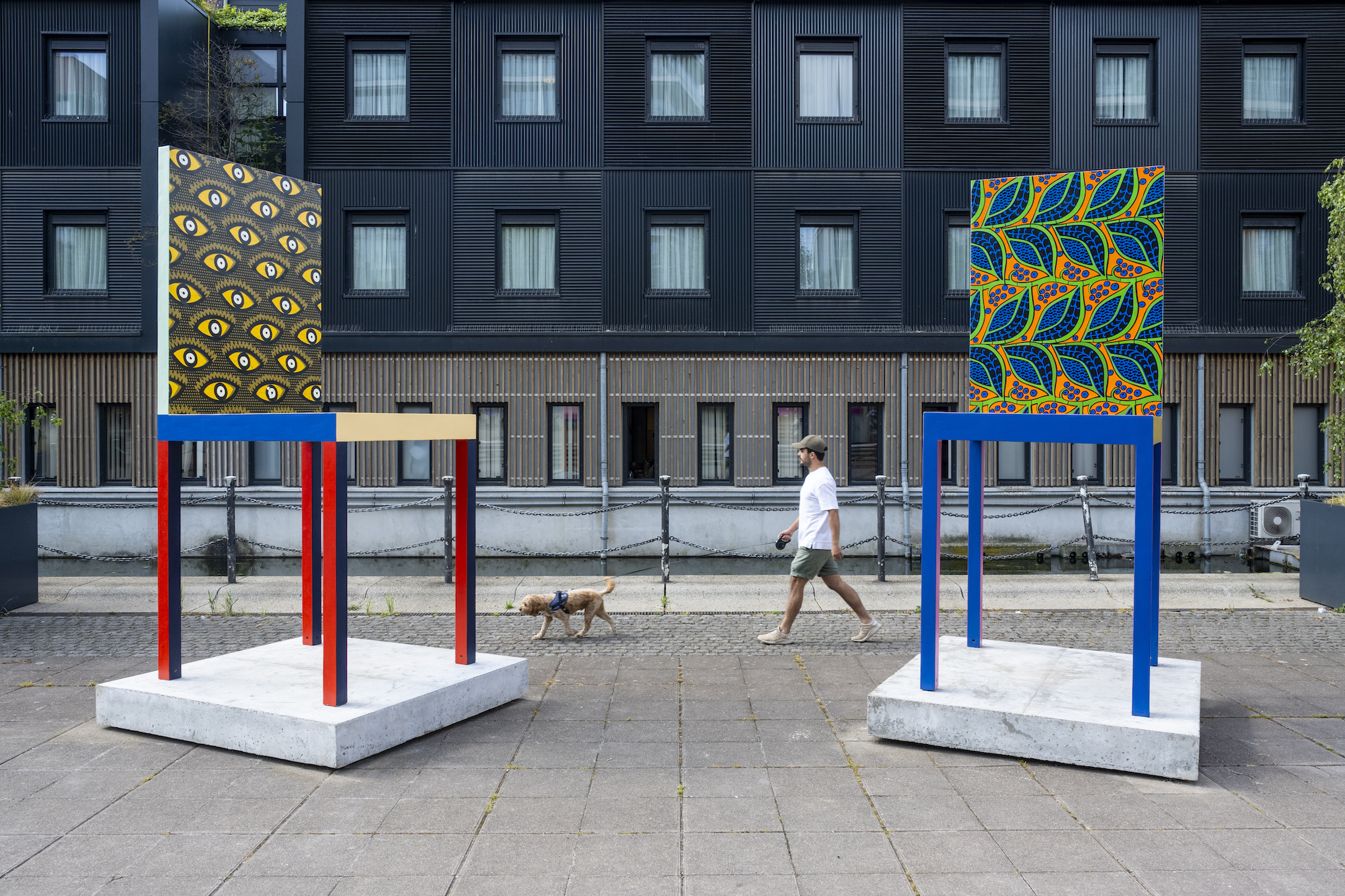 They are part of a collection of six chairs, where the artist explores different types of happiness, which include pride, strength, excitement, happiness, calmness and determination. Each of the chairs is ascribed a different type, using the same colours, but in different combinations, to impact experience. The two chairs on The Line represent happiness and pride. They are located between the entrance to the Cable Car and the Good Hotel, in the Royal Docks. Ilori's work explores art as a narrative and colour as a language through which to spread stories. His practice is underpinned by the belief that art and design should be accessible to all. Humorous, provocative and playful, his projects demonstrate how design can bring together communities and have a positive impact on society, evoking a sense of joy and optimism.
Following the waterways and the line of the Greenwich Meridian, visitors to The Line can trace a path through the Royal Docks and Three Mills to discover works by artists including Alberta Whittle and Mahtab Hussain as part of this summer's ambitious programme.
As London's longest public art trail, The Line is accessible to local residents, Londoners, tourists, families, bird-watchers, dog-walkers, runners, ramblers and anyone else who enjoys an adventure, 365 days a year. The route takes in the Thames, the Royal Docks, River Lea and canals. Winding its way from The O2 in Greenwich to Queen Elizabeth Olympic Park in Stratford, The Line creates a drop-in walking route alongside waterways and green spaces for visitors to experience and explore some of London's most striking hidden routes, brought to life by artists including Larry Achiampong, Rana Begum, Serge Attukwei Clottey, Tracey Emin, Antony Gormley, Eva Rothschild and Richard Wilson and among many others.
Yinka Ilori commented:
"I am incredibly excited to have my installation, Types of Happiness, included as part of The Line's vibrant summer programme. The installation explores how we can have personal connections with objects through the use of colour and storytelling. I hope that visitors will be immersed in the joy and optimism that my work aims to evoke, and that they will find a sense of connection and community as they explore this public art trail. I am excited to contribute to an experience that can be enjoyed by Londoners, tourists, and anyone seeking inspiration along the waterways and green spaces of East London."

Megan Piper, Co-Founder and Director of The Line commented:
"This installation has been in the pipeline for a very long time and I'm delighted that Types of Happiness is finally on The Line! Representing happiness and pride, I hope that these are the emotions that they will instill in the residents of the Royal Docks and its visitors."
Deputy Mayor for Culture and the Creative Industries, Justine Simons OBE, said: "Typesof Happiness is a brilliant addition to The Line – London's longest public art trail. Yinka's trademark bold colours and intricate patterns tell a powerful story along East London's waterways. It's a great day out for Londoners and visitors, showcasing the Royal Docks as a new cultural destination as we build a better London for everyone."
Take a look below for more photos of Yinka's latest installation.