For the Croydon Rise Festival, London based artist AIDA WILDE decided to create a bespoke shop front window named 'Less Homes 4U'. Using her signature vibrant neon pink dotted wallpaper and black block text imagery, Aida Wilde continues to denounce the gentrification process.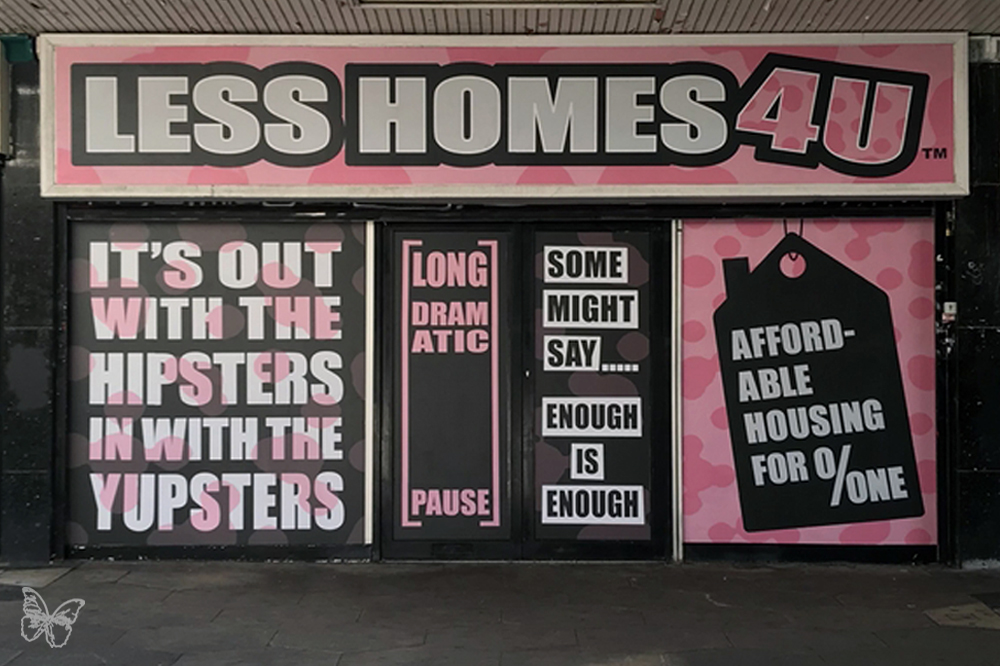 For many years she has been championing powerful text based street interventions incorporating social media terminology as a tool for activism.
Earlier in September, during the Art on the Streets conference, she presented her work about the gentrification of Hackney Wick, the curation of the Lord Napier project for Hackney Wicked ( from Shithouse to Penthouse), and A Hackney Wick Funeral, uniting countless artists in homage to Hackney Wick's vibrant artistic past.
Croydon, a borough located south of London, often nicknamed 'Cronx' due to its infamous and controversial reputation, from Kate Moss to the 2011 London Riots, has been undergoing a lot of real estate development and revitalisation in a bid to change its image and attract new crowds.
In the city center many of the local shops have now closed to give way to big brands and so on.
Together with her glamorous assistants Aida pasted up bold messages on the shop window:
'LESS HOMES 4 U'
'IT'S OUT WITH THE HIPSTERS, IN WITH THE YUPSTERS'
'ENOUGH IS ENOUGH'
'LONG DRAMATIC PAUSE…'
'AFFORDABLE HOUSING FOR NO ONE'
A sign next to the window indicates 'WHERE ONLY THE 1% COUNT', with the O being strategically stroked off.
The Croydon Rise Festival is a street art festival curated by Monoprixx, Wherethereswalls and Rise Gallery, aimed to become the largest free open air museum in Europe.
Stay tuned for further updates !
Photo credit: Butterfly Art News, Wherethereswalls