Melbourne street artist Kaff-eine's upcoming exhibition, Southern Wild, celebrates our real, everyday bodies through surreal nude portraits of humanlike characters.
Melbourne's street art spotters have long spied them lurking in city laneways and abandoned spaces; paintings of large, quietly looming characters with nude human bodies, deer skull heads, and hooves for feet. Kaff-eine's intriguing 'deerhunters' are immediately recognisable, and loved by a diverse audience.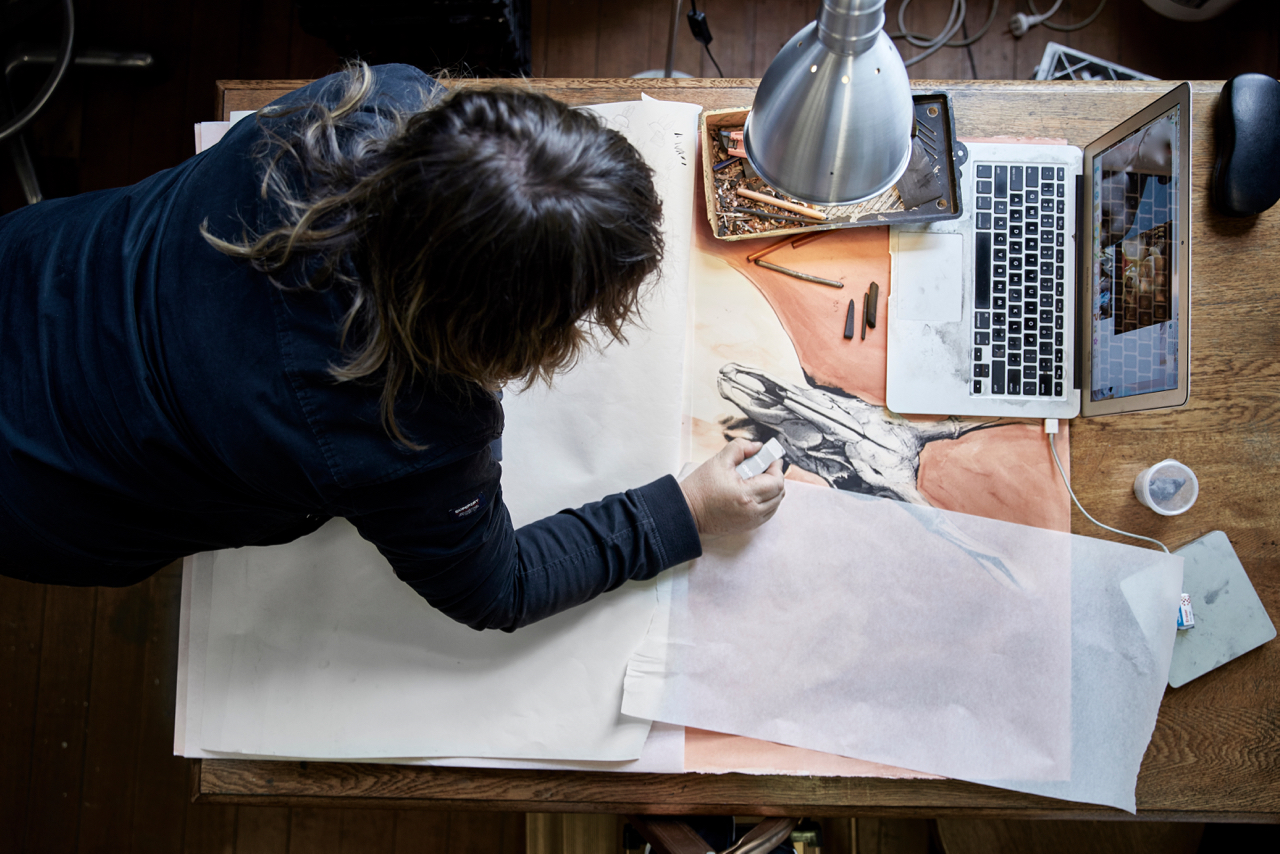 Kaff-eine opens her solo exhibition on the 11th December – her first show dedicated entirely to her deerhunters, with a fresh twist. The models for her characters were not professionals; instead, Kaff-eine invited her followers and the public to model nude and direct their own shoots for the portraits. "I wanted to see what would happen when people created their own deerhunters," she recalled. Over 300 people from around Australia responded to her initial invitation; Southern Wild showcases the first collection of portraits, based on people from Melbourne and surrounds.
"Each model chose their own props to bring to the session, and posed as they liked. It meant that I never knew in advance what the portrait would look like, nor was I able to shape the tone of the exhibition, but I loved it," Kaff-eine enthused. "Posing nude, knowing that their face was being replaced with a skull meant that people expressed themselves anonymously and openly, and shared the often-hidden histories written into their flesh. I've been blown away by what we've created together'.
The process has resulted in a collection of commanding nude deerhunter portraits in watercolour, charcoal and spray paint, which reflect a range of genders, sexualities, desires and body types. Lush and sensual, intimate and powerful, these deerhunters with real everyday bodies are anonymous but full of their masters' eccentricities, egos and stories.
Kaff-eine invites audiences to surround themselves with her creatures and celebrate the beauty and diversity of the human form at her exhibition, located in the dark underbelly of an old wool warehouse in Kensington. "I'd been wanting to make a deerhunter exhibition for years now; then I found The Tallows, a shadowy mysterious space, and I knew this was where I had to have this show."
Details:
Southern Wild
• Opening night 11 December 6-9pm
• Tallows, 12 Elizabeth St, Kensington, Victoria, Australia
• Exhibition runs 12-15 December 12-8pm
• Full moon midnight viewing 14 December 11pm-1am
• 18+ only exhibition
For further information, media and sales enquiries, contact: [email protected]
Photographs courtesy Nicole Reed Photography.