Art can be humble while still making an impact; as much craft as high concept, while still grabbing attention and changing minds. The more accessible the initial process of making art becomes, the more likely it is to reach a wider audience. 
Looking past the widely-known terms of Street Art & Public Art, and further beyond familiar ideas of Graffiti, Murals and Stencil Art, we wondered how many people would know they were passing by a 'Wheat Paste', a 'Paste-Up', a 'Locative Collage'.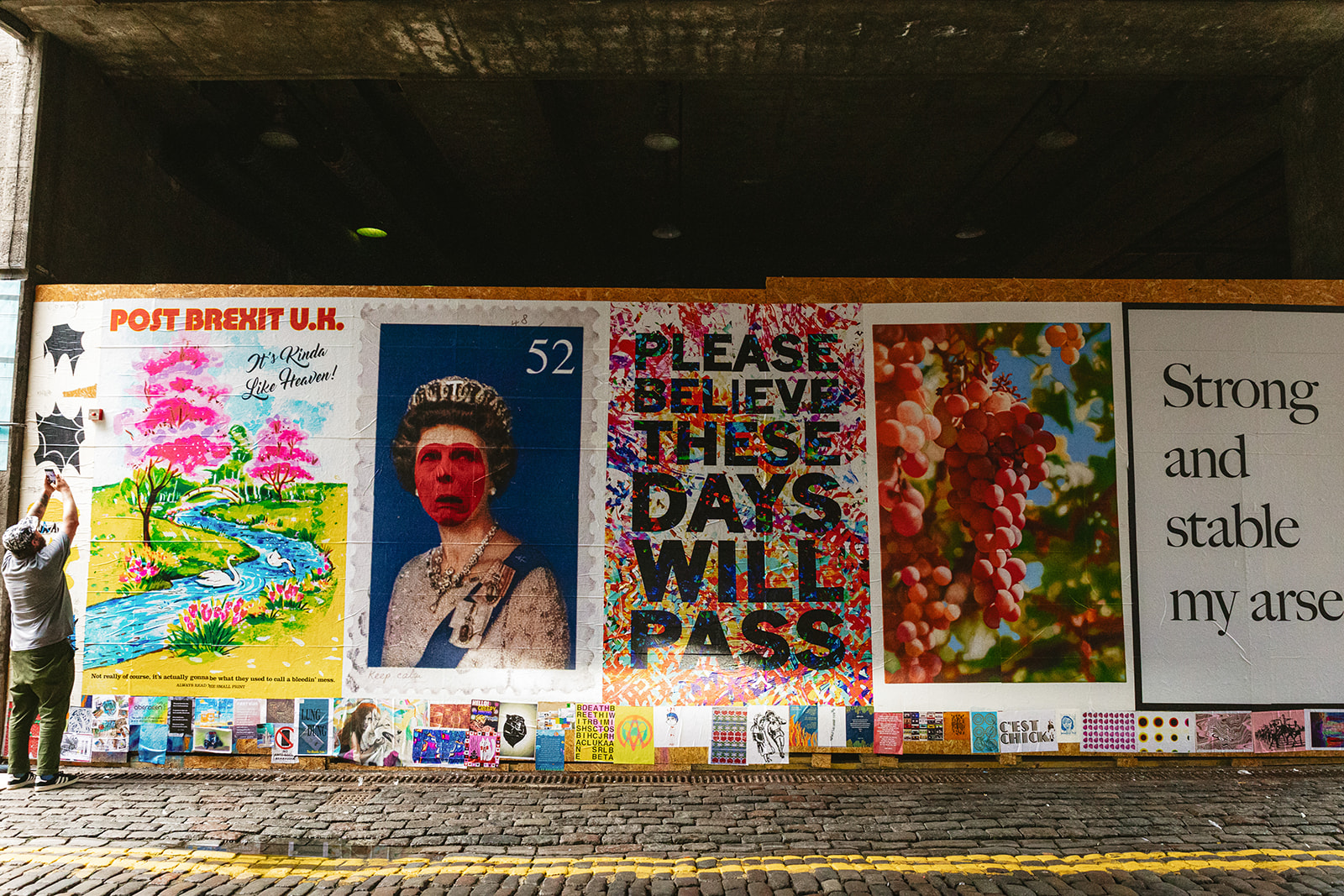 The answer to that was 'not enough' – a whole world of often-overlooked art operating in a space that is uniquely liminal (which in this case we like to think of as somewhere between legal and criminal). 
With that in mind, Nuart has secured 1500ft of space in Aberdeen City Centre to create what we hope will become the world's largest paste-up wall, bringing three separate collections of art together: 
Nuart's founder and creative director Martyn Reed has dug into his little black book of contacts and curated a selection of artists we're more used to seeing in international art museums. We'd been told to expect a few surprises, but weren't expecting Turner prize winners and contemporary art stars. 
London based Flyingleaps, the subversive counter-culture arts initiative founded in response to the Brexit referendum result, will celebrate its fifth anniversary, with street poster art spanning its revolutionary archives, created by a global coalition of urban contemporary political artists. 
Nuart Aberdeen project manager Jon Reid has been avidly collecting those works sent in to local art studios (and Nuart home base) the Anatomy Rooms. The project has captured the imaginations of a great many people, with art arriving from all over the globe, submitted from nursery schools, the studios of well known international artists and everywhere in-between.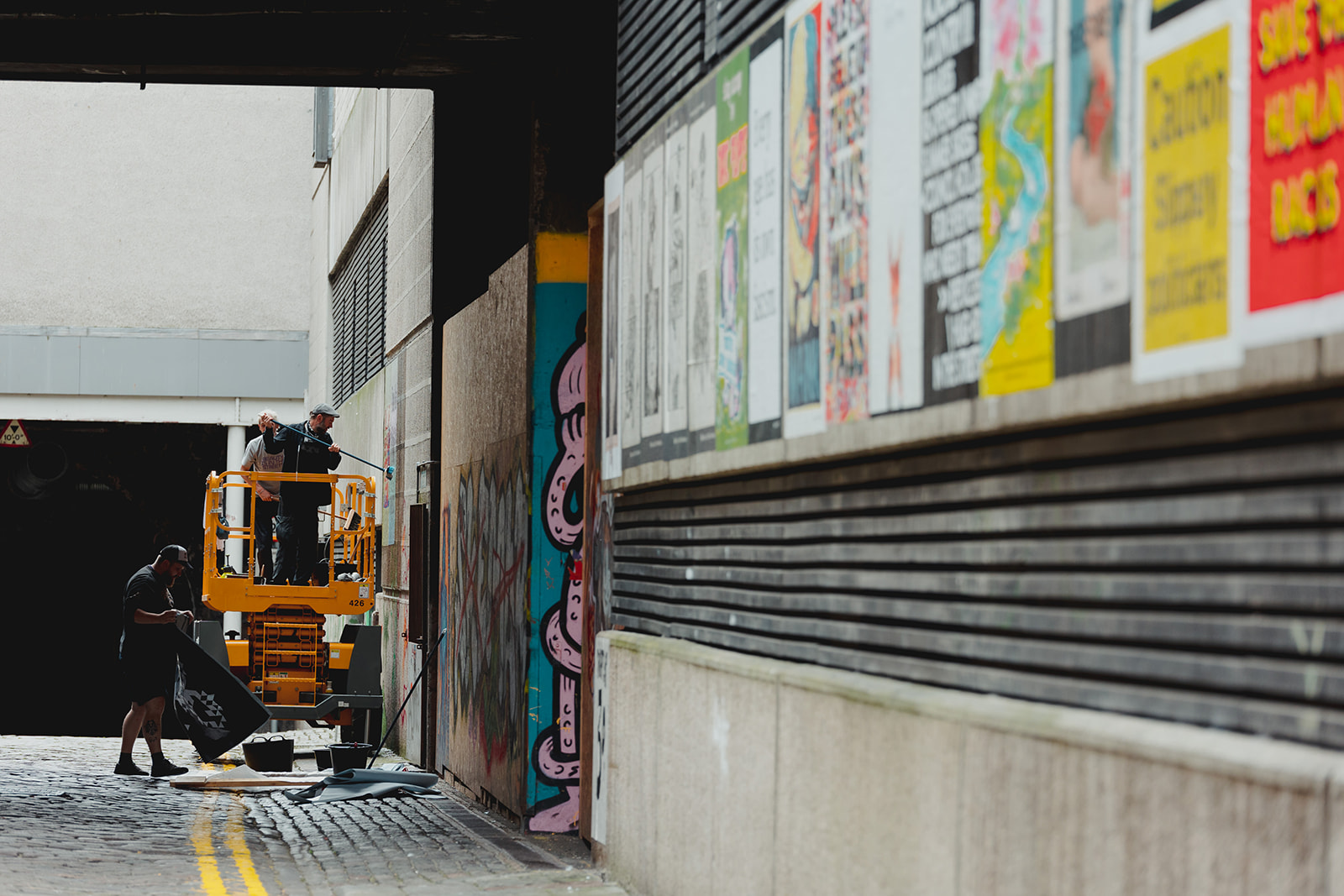 Nuart curator and founder Martyn Reed says of the project: 

"After months of lockdown and with all major arts institutions closed, as well as mothballed street art festivals, I started thinking about how we could make a return to the city. 

"We know there's a huge demand for art on the streets, for murals and festivals and celebrations of creativity. We also know they require a significant amount of resources to produce. 

"The fact that all you need is an old magazine, scissors, paper, crayons, paint and a tabletop to join "Stuck Up" seemed to be a good way of activating communities.
It struck me that all of this D.I.Y creativity could be harnessed and given a home, a place in real time, in real space once the pandemic abated; a vast outdoor museum of those words and images that it kickstarted. 

The idea has all of the democratic principles that attracted me to this culture in the first place. It's a crazy idea, and I thought 'where the hell could we find a space or a wall large enough'. This is where my old sparring partner at Aberdeen Inspired usually comes in: "Ross, I have this crazy idea…." and here we are today. "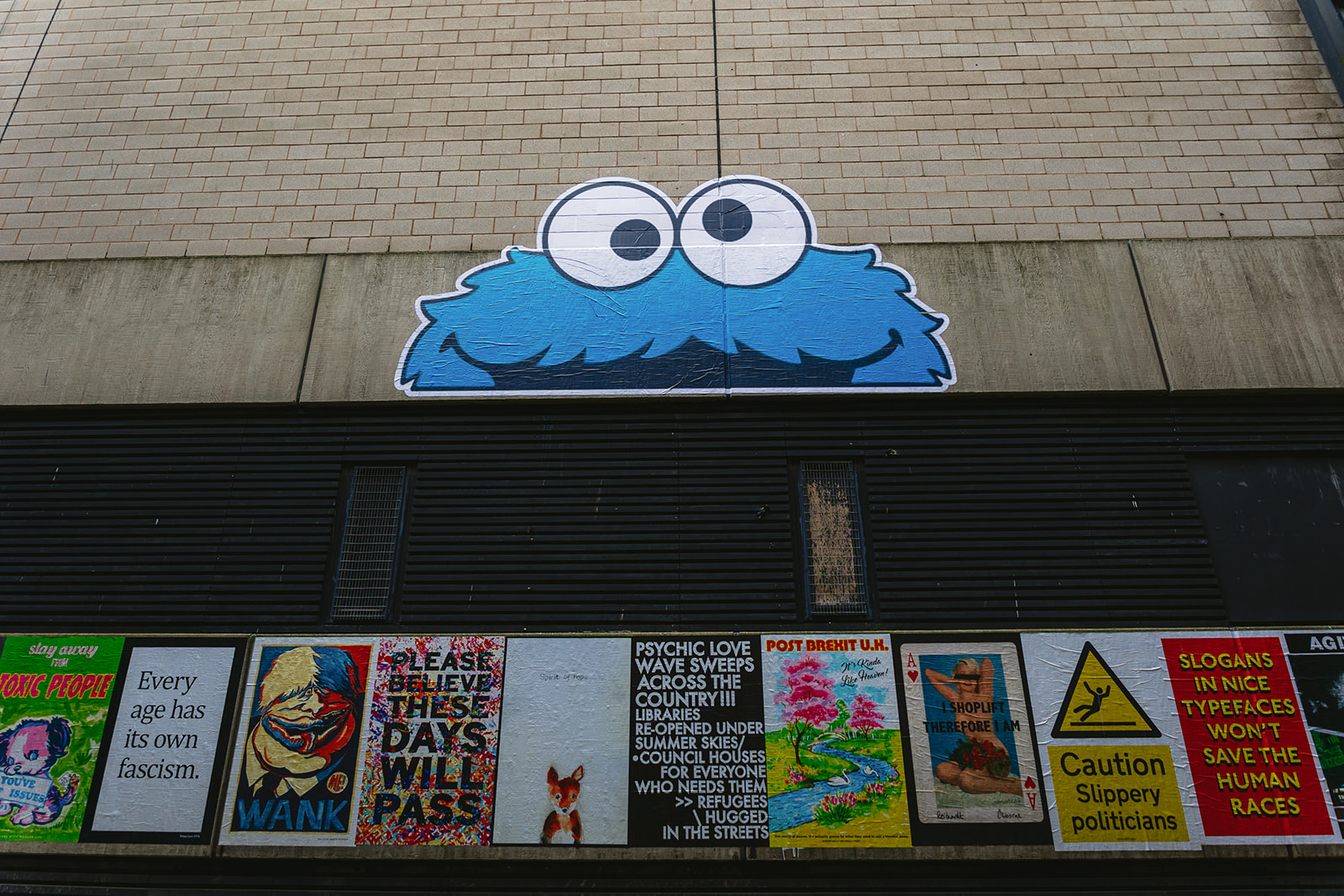 FLYING LEAPS on contributing to Stuck Up: 
A paste-up extravaganza. Nuart founder and curator Martyn Reed is commissioning a posse of top-notch brush and bucket buffs to help adorn half a kilometre of street. 
Raiding the flyingleaps' archive will take us back to the day of the EU ref. in 2016. We kicked off the project with a cracking, prescient image by kennardphillipps and have since displayed more than 50 art and visual activist posters across the UK.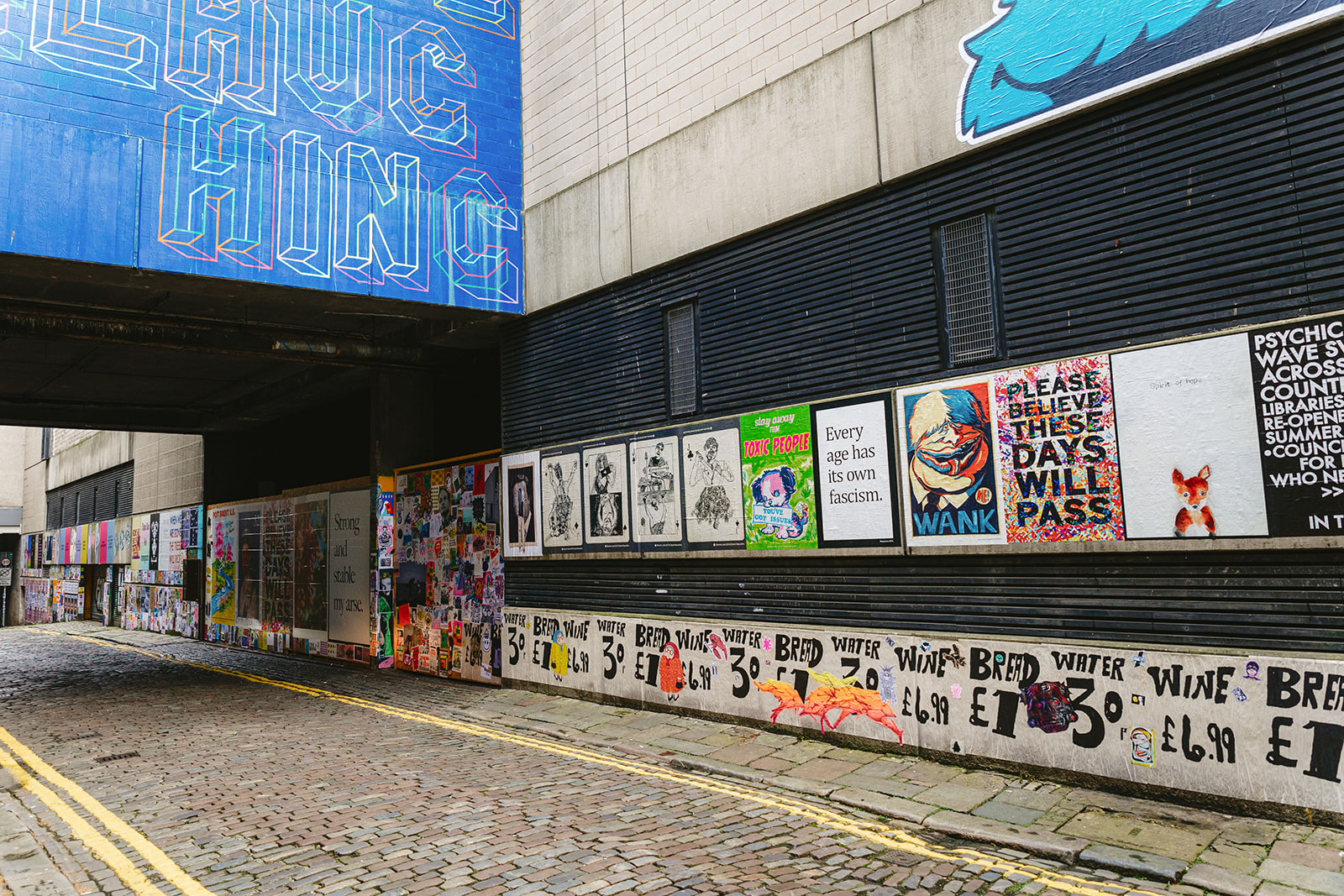 Paste-up fans can expect to see a great range of work in Aberdeen: Jeremy Deller's pithy texts; kitsch, neon hues and attitude from Magda Archer; deviant well-being advice courtesy of Bortusk Leer; Dr.D's fine-tuned social conscience and mordant wit; poetic and political photography by Simon Roberts; Laudet's clarion tapestry; Hayden Key's sharp, scathing hacks; Derek Mawudoku's etched critiques of the human condition; Dolores de Sade's visual meditations on nature and the Anthropocene; the plaintive psychedelia of Mark Titchner… plus many, many more gems. 
Nuart Aberdeen and partners' staging of STUCK UP offers a platform both to local and global, established and emergent voices attracted to the directness and immediacy of paste-ups. 
What is a Paste-Up? 
A Paste-Up is simply an artwork on paper, pasted to a wall with wheat-paste, a form of self-made glue that – in America at least – became the name of the actual practice. 
Paste-Ups are more often than not regarded as artworks in their own right, usually created in the studio before being transplanted on to the streets. The practice crosses over into the more familiar fly-posting when art and design becomes the vessel for political sentiments and social calls to action, or as commercial advertising promoting concerts and cultural events. 
'Locative Collages' are a relatively new iteration of this idea, wherein small collages are created and then pasted, or "located", in public spaces.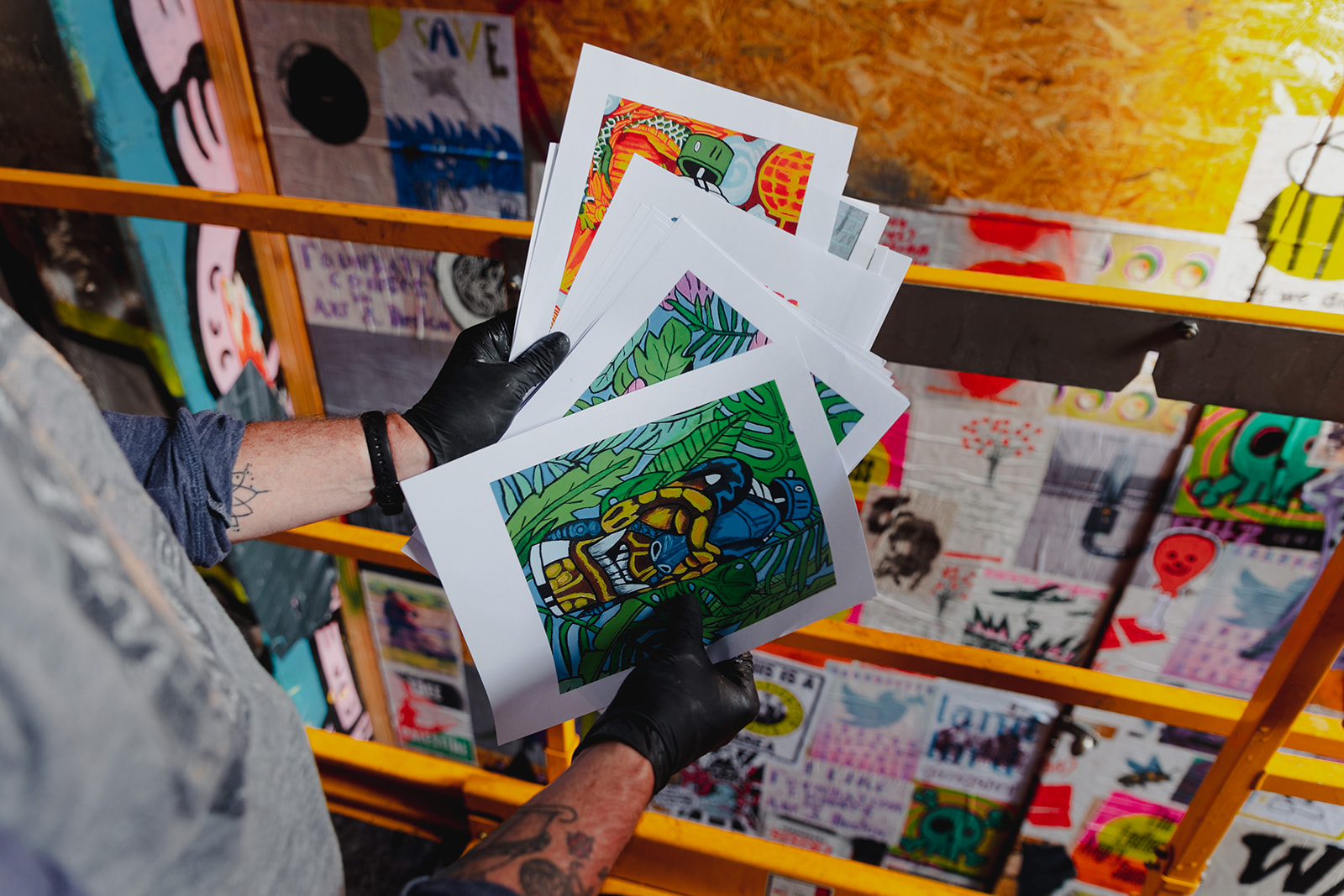 Jon Reid, Nuart Aberdeen Project Manager says: 

"Over the last eight weeks a stream of envelopes & postal tubes has been arriving at our studio base in the Anatomy Rooms. 

"I've been avidly checking the post stamps to see where these artworks have come from and was amazed at just how far the open call had reached: we've received artworks from Finland, Norway, Germany, Spain, France, the US and even Mexico! 

"Works have also been handed in directly to the studio from children as young as four and Aberdonians as old as 84.
"Every day has been like Christmas, opening parcels and reading many of the notes of thanks from senders, which we've kept along with the hundreds of messages about the project on social media. 

"Although Covid has posed many challenges, the 'Stuck Up' project will help us to create real-world connections with hundreds of artists and shows – Aberdeen can reach much further than we perhaps think it does. 

We're thankful to The Anatomy Rooms and the team at City Moves, for their support during the build up to getting 'Stuck Up'. " 
Curated artists contributing to Stuck Up: 
Aida Wilde (UK) 
Aida Wilde is an Iranian-born, London-based printmaker, visual artist & educator, whose diverse screen-printed installations and artworks question issues of gentrification, education, and equality. Wilde's serigraphs can be found on city streets and in galleries across the world including the Victoria & Albert Museum, Women's Art Library, Goldsmiths, Vienna's Fine Art Academy, Somerset House, and Saatchi Gallery. 
Addam Yekutieli aka Know Hope (IS) 
Over the past two decades, Addam Yekutieli, aka Know Hope, has developed a visual iconography and language to mirror real-life situations and document the notion of a collective human struggle. Yekutieli's site-specific installations, murals and assemblages use ready-made materials, mixed-media pieces, photographs and text to explore issues such as cross-cultural encounters, borders, and trauma.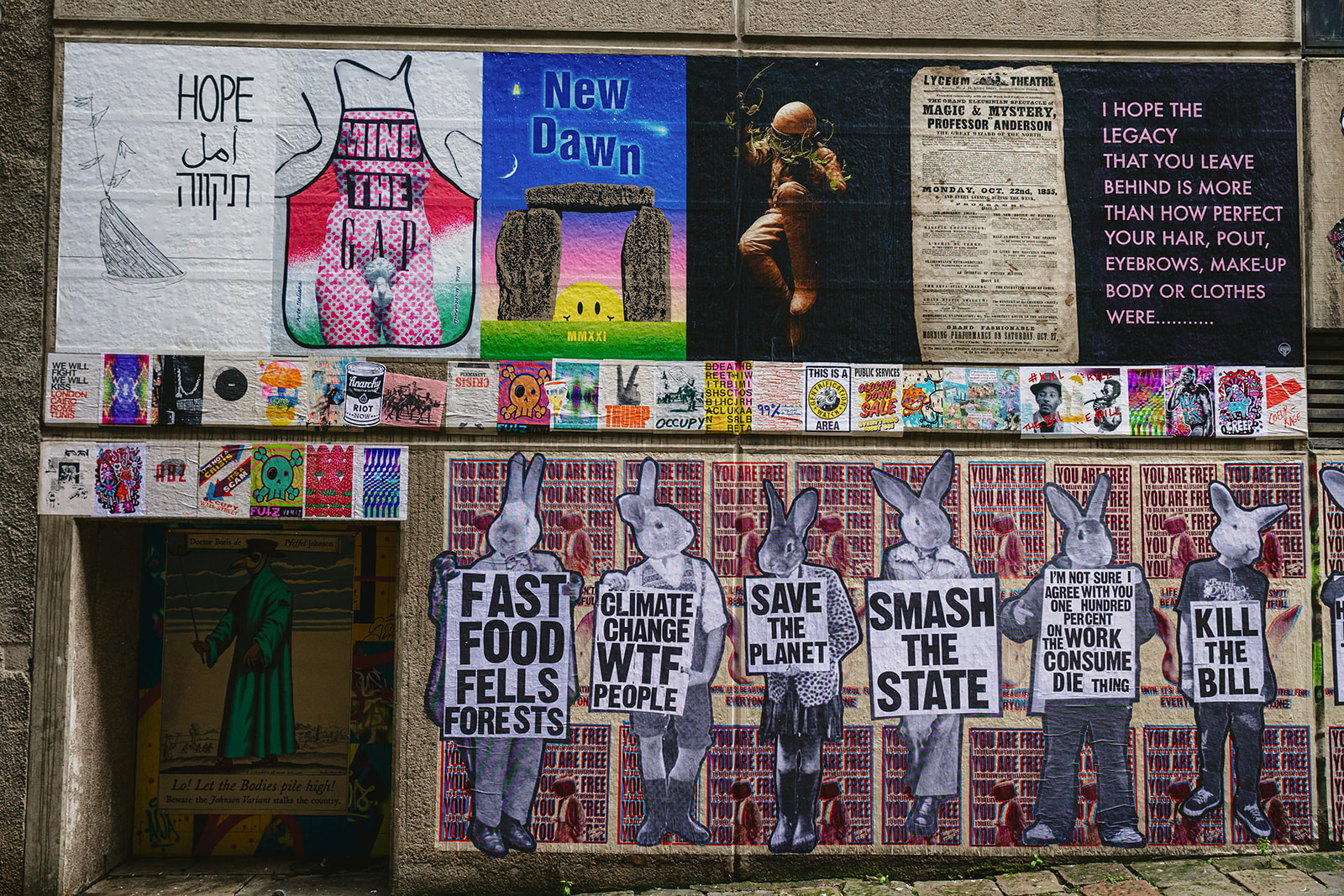 Bahia Shehab (EG) 
Prof Bahia Shehab is an artist, author and Professor of Design at The American University in Cairo. Her work has received a number of international awards, including the BBC's 100 Women's List, a TED Senior Fellowship, a Prince Claus Award, and the UNESCO-Sharjah Prize for Arab Culture. Bahia was active on the streets during the Arab Spring uprising, and maintains a presence alongside her international arts career. 
Jeremy Deller (UK) 
Jeremy Deller is one of the UK's leading contemporary artists, having won the Turner Prize in 2004 and the Albert Medal of the Royal Society for the encouragement of Arts, Manufactures & Commerce (RSA) in 2010. Deller is best known for his Battle of Orgreave (2001) – a re-enactment of the events which occurred during the UK miners' strike in 1984 – and for 2016's acclaimed We're Here Because We're Here. 
Jeremy Geddes (NZ) 
Jeremy Geddes is a photo-realistic painter born in New Zealand who, having studied painting in the early 90s, initially worked in video games as an art director. Geddes won the Spectrum Gold Award for his cover art for the comic, Doomed. In 2003, he returned to painting full-time and has since had his work published and exhibited around the world, finding particular acclaim for his existential Cosmonaut series. 
Robert Montgomery (UK) 
Born in 1972 in Chapelhall, Scotland and currently living and working in London, Robert Montgomery brings a poetic voice to the tradition of contemporary text art. Renowned for his
large, public light installations, fire poems and distinctive black and white billboard artworks, his work engages with the urban world through his translucent poetry, a direct approach to universal themes such as power and love.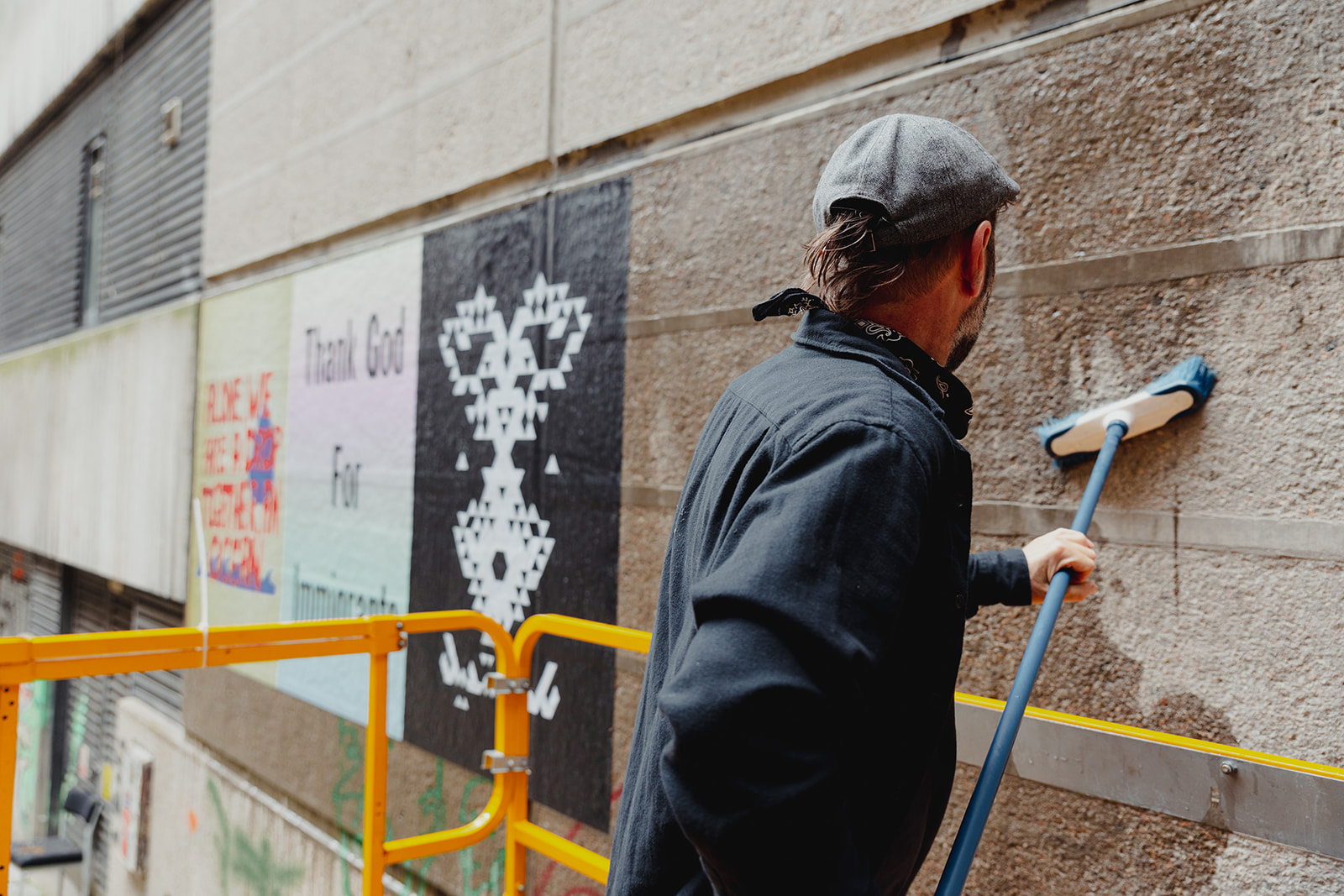 Sam Durant (USA) 
Sam Durant is a critically-acclaimed multimedia artist whose works engage social, political, and cultural issues, using research-based methodology with an emphasis on social engagement. Durant's work has been included in numerous international exhibitions including Documenta 13, the Yokohama Triennial, the Venice, Sydney, Busan, Liverpool, Panama, and Whitney Biennials. 
Martyn Reed (Nuart) 
Martyn Reed is a British artist, researcher, curator & producer based in Stavanger, Norway. He is the founder and artistic director of Numusic and Nuart Festivals and their related offshoots Nuart Gallery and Nuart Plus, as well as Editor in Chief of the peer review Nuart Journal. Much of Reed's work and the projects and platforms he devises are international collaborative events that revolve around promoting art as part of everyday life using counter cultural strategies, values and thinking.
Check out below for more photos of the project.
Photo Credits: Clarke Joss Photography