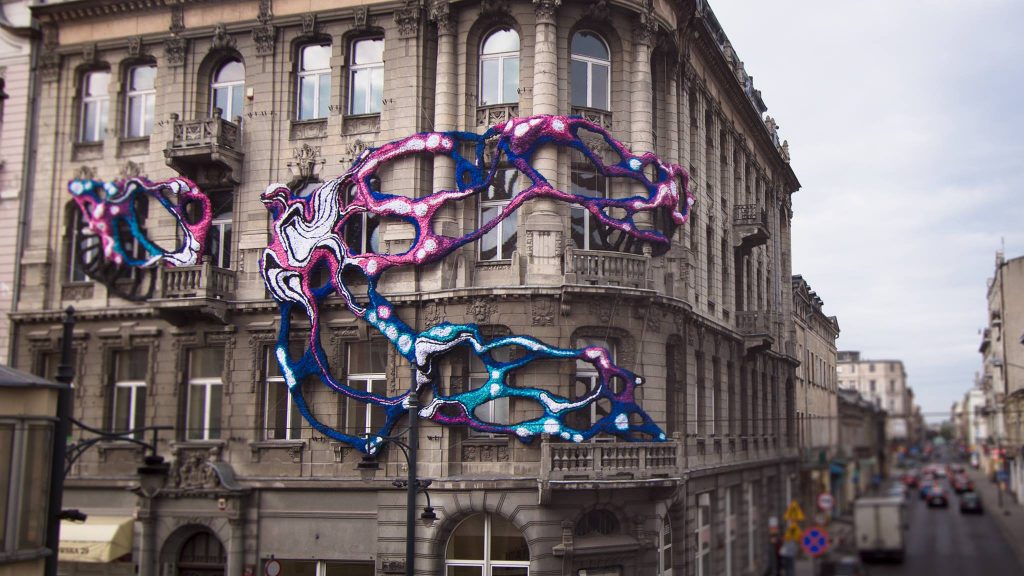 The UNIQA Art Łódź project welcomes a beautiful installation by American artist Crystal Wagner entitled "Hyperbolic". The project is curated by Michał Bieżyński.
Hyperbolic is a wild exterior growth that wraps around the art nouveau façade of a 100 years old building in Lodz. The artist was interested in the dialog between architecture and organic forms and structures found in nature. It is a hybrid born of the modern and exotic landscapes that investigates through juxtaposition and context our relationship with our cultivated spaces/structures and our relationship with the natural world.
American artist Crystal Wagner, independently if she's working in the closed gallery's interiors or in the public space, she's creating large-scale art installations. Her work is a typical "site-specific" stuff, something that is designed and prepared from the beginning directly for one, particular place. Wagner is taking over the space – while she's working in the galleries, she's transforming it's interiors into unreal, multicolor "worlds" like from the outer spaces. Her outside realizations are creating the impression of "devouring" different elements of architecture and street infrastructure. Wagner is usually using the everyday textile and synthetic materials to create her amorphous, organic structures. –Michał Bieżyński
Take a look at more images below and if you are in the area, you'll be able to find the installation on ul. Piotrkowska 29.